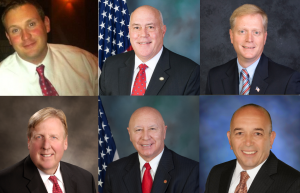 The special election train is continuing to travel the country and northeast Pennsylvania its next stop. News broke Tuesday that Congressman Tom Marino (R-Lycoming) will be stepping down to join the Trump Administration.  
Rumors of the move had circulated among Republicans for weeks and potential candidates have worked to position themselves.
"This was one of the worst kept secret in politics," one source told PoliticsPA.  
PoliticsPA has spoken with a dozens sources in the northeast Pa. district to learn who are the frontrunners for each party's nomination. More on the special election conferee process below.
The district is heavily Republican and went for Trump by a wider margin than other open seats (eg. Georgia's 6th and Kansas' 4th). But Democrats may look for an opening in a seat that their party held from 2006 to 2010 (before redistricting), especially if they run competitively in other upcoming races.
A large number of possible candidates have expressed an interest in the seat, or have had others float their names. On the Republican side, PoliticsPA has confirmed that five people are actively preparing to run:  
State Representative Fred Keller (R-Snyder), Bradford County Commissioner Doug McLinko, Lycoming County Commissioner Tony Mussare, State Senator Mario Scavello, and State Representative Jeff Wheeland (R-Lycoming).  
There is a potential sixth candidate as well. Several sources said Marino's District Director Dave Weber is one of the top names being rumored, if he decides to get into the race. Weber has worked for Marino since he was first elected to Congress and would be expected to have his boss's support.   
McLinko is a fourth term County Commissioner in Bradford County and is serving his second term a Commission Chairman.    
"Marino has done a terrific job, for the 10th, and I think I would do a good job of continuing his work," McLinko told PoliticsPA in a phone interview. He floated a possible primary challenge to Marino in 2013.
Keller, who was just elected to his fourth term in the State House in 2016, represents Union and Snyder counties.  
"If Marino moves into the administration, I will be entering the race for the 10th district," Keller confirmed to PoliticsPA.  
Mussare, a two term County Commissioner, also confirmed that he is weighing a bid.
"It would be an honor, but I would refrain from making any decision until I see what the Party wants," Mussare told PoliticsPA.  
PoliticsPA is seeking comment from Scavello, Weber and Wheeland.
Democrats face an uphill climb in PA-10, which went for President Trump over Hillary Clinton 66-to-30. Mitt Romney outdid President Obama 60-to-38; John McCain beat Obama 57-to-42; and President Bush took 63.5 to John Kerry's 36.5 in the two-way vote share, according to DailyKos.
Republicans had the benefit of rumors that Marino would soon step aside. Democrats have had little time to prepare and the field is less clear, but several names stand out.
Chris Carney, a combat veteran of the U.S. Navy, represented PA-10 from 2006 to 2010 when he lost to Marino (and before redistricting). He has remained politically active and served as an active campaign surrogate for Clinton in 2016.
Former Bradford County Commissioner Mark Smith ran for Lieutenant Governor in 2014 and currently serves as Governor Tom Wolf's Director of Government Affairs and Outreach.
Scott Brion, who founded a business in the oil and gas industry, challenged Marino in 2014 and won 25% of the vote. Independent candidate Nick Troiano took 12%. Marino defeated Mike Molesevich 70% to 30% in 2016.
PoliticsPA is seeking comment from Brion, Carney, Smith, and Troiano.
Pennsylvania's special election process rewards well-networked candidates. Each party's nominee is chosen by a conference of the county parties within the district. Precinct-level committee people who reside in the 10th district vote, and each state party compiles and certifies the results. Each state party has the seldom-used authority to overturn their choice.
PA-10 is a massive district without a natural center of gravity. It spans parts of 4 television markets and includes part or all of 15 counties: Bradford, Juniata, Lackawanna, Lycoming, Mifflin, Monroe, Northumberland, Perry, Pike, Snyder, Sullivan, Susquehanna, Tioga, Union, and Wayne.
Correction: PoliticsPA originally reported that developer Andrew Lewis was preparing a bid; he confirmed that he is not.