The results of the 2020 election show that Joe Biden, bolstered by his "Scranton Joe" persona, stanched the bleeding for the Democratic presidential ticket in blue-collar precincts of southwestern Pennsylvania, a region where voters had moved sharply toward Donald Trump in 2016.
But it's equally clear that Biden wasn't able to do much to help his party further down the ballot.
These are the twin conclusions of my reporting this year on Allegheny, Beaver, Fayette, Greene, Washington and Westmoreland counties, the six counties I have tracked in a series of dispatches for PoliticsPA from southwestern Pennsylvania since 2009. (For the first time this year, I was unable to visit the region following the election, due to the pandemic. I hope to return in 2022, if not sooner.)
As I noted in my analysis two years ago, a consistent theme over the past decade-plus has been consistent Republican gains in the outlying, largely rural counties around Pittsburgh.
The midterm elections of 2018 offered some green shoots for Democrats, with election of Democratic U.S. Rep. Conor Lamb, improved performances in the region by Gov. Tom Wolf and U.S. Sen. Bob Casey, and a smattering of favorable state legislative results. In the meantime, Allegheny County, which is dominated by Pittsburgh and its closer-in suburbs, was showing the types of urban and suburban gains that Democrats were seeing in other metro areas across the country.
This year, Biden managed to arrest the Democrats' free-fall in the five southwestern counties surrounding Allegheny, even gaining a bit of ground over Hillary Clinton's performance in several of those counties. But Lamb managed to defeat Republican Sean Parnell by only a narrow margin, 51.1% to 48.9%, and Democratic performances in elections for statewide row offices and legislative seats sagged.
Here's a rundown of how the parties fared this year in southwestern Pennsylvania.
The presidential race
While southwestern Pennsylvania remains a tough area for a Democratic presidential candidate, Biden managed to improve marginally on Clinton's performance in 2016.
Here's a chart showing the Democratic share of the presidential vote in the six southwestern Pennsylvania counties between 2000 and 2020.
In Beaver, Washington, and Westmoreland counties, Biden saw a small uptick in the vote compared to Clinton – the first such Democratic gain in those counties this century. In Fayette and Greene, Biden underperformed Clinton, but the decline was the smallest for a Democratic candidate since 2000.
"The difference between Hillary and Biden was that Hillary wasn't liked or trusted," said Kirk Holman, a longtime political observer and onetime Republican official in California, Pa. "'Scranton Joe' was liked and trusted."
And while Biden's gains in the region were modest, every vote counted, given that the state flipped from a 44,000-vote Trump victory in 2016 to an 81,000-vote Biden victory this year.
It's important to note that, despite Biden's upticks in the region, his share of the vote was hardly impressive: It ranged from almost 41% in Beaver County to less than 29% in Greene County. (Allegheny was the exception, with the Democratic share rising from 56% for Clinton in 2016 to nearly 60% for Biden.)
Some of Biden's gains may have come from consolidating support from voters who cast a third-party presidential vote in 2016, said Raymond Wrabley, a political scientist at the University of Pittsburgh at Johnstown. A few days before ballots were to be printed, the Pennsylvania Democratic Party won a challenge to the Green Party's candidate's petitions that prevented the Green line from being on the ballot. This likely helped Biden's totals.
The Republican gains since 2000 can be seen in the following chart, which shows the raw vote total for Republican presidential candidates in the region in each presidential election. The number of GOP votes in the five counties outside Allegheny (shown in dark red) has risen steadily in the past 20 years, while the number of GOP votes in Allegheny has remained steady and, in 2020, even increased.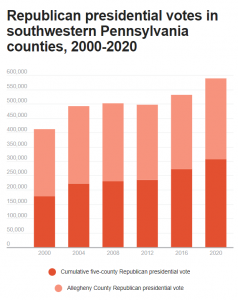 Democratic woes in southwestern Pennsylvania have accelerated as the pro-environment national party has diverged with the views of voters in the natural gas-heavy region. Observers said the well-funded Biden was able to blunt the Trump charge that he would "ban fracking," but this line of argument may have hurt Democrats further down the ballot. 
"Democrats will need to do a better job focusing on 'kitchen table' economics if they want to meaningfully make inroads in the counties surrounding Allegheny," said Mike Butler, a Pittsburgh-based Democratic consultant.
Row office races
Biden's incremental gains in the region did not extend down the ballot. In fact, as the chart below shows, Democrats lost ground in the attorney general, auditor, and treasurer races.
Specifically, in every county in 2016, the Democratic row-office candidate – Josh Shapiro for attorney general, Eugene DePasquale for auditor, and Joe Torsella for treasurer – outran Hillary Clinton by a substantial margin.
In 2020, however, every row office candidate saw a much smaller margin beyond what Biden secured. Auditor candidate Nina Ahmad even underperformed Biden in three counties.
Shapiro managed to win enough votes statewide to secure reelection, but Torsella was unseated by his Republican challenger and Ahmad failed to win the open-seat contest.
The presence of a Green Party candidate on the ballot for these races may have been a factor. Another factor may have been the absence of straight-ticket voting this year.
"The falloff from president to the down ballot races was more than enough to have won the row offices and may have saved some of the closer house and senate races if the straight ticket had been an option," said Marty Marks, a senior communications consultant for the AFL-CIO and Democratic campaigns.
Conor Lamb's narrow victory
Lamb, fresh off winning a solidly Republican open U.S. House seat in the region during a special election in 2018, defeated incumbent Republican Rep. Keith Rothfus in a friendlier, Pittsburgh-area district on Election Day. The 2018 general election wasn't even close: Lamb prevailed over the three-term incumbent, 56 percent-44 percent.
But this year, facing Trump-aligned Republican Sean Parnell, Lamb had a much tougher contest, winning by just over two percentage points.
Democrats are realizing that the district "is tough sledding for a Democrat, even in the best of circumstances," Butler said. "If you consider the other prominent Democrats and office holders within that district, I'm certain Conor is the only one who can carry it." 
State legislative seats
Republicans also continued to make gains in the region's legislative seats.
Among southwestern Pennsylvania Democrats in the legislature, House Democratic Leader Frank Dermody lost his seat. Notably, the Laborer's union actively worked and supported his Republican challenger, a sign that organized labor's clout is no longer assumed to be used on behalf of Democrats.
"This is a part of the Trump realignment," said Mike Ward, a GOP strategist in southwestern Pennsylvania. "Labor unions are becoming a Republican constituency, along with other working-class voters."
Other Democrats who lost this year were state Sen. Pam Iovino and state Rep. Joe Petrarca. In addition, Democratic state Sen. Jim Brewster is locked in a too-close-to-call battle for reelection. Meanwhile, some Republican incumbents won easier-than-expected victories, such as state Rep. Bud Cook.
The best news for legislative Democrats in the region was probably the reelection of state Rep. Pam Snyder to the seat she first won by in 2012. The heavily Republican district, which includes portions of Fayette, Green and Washington counties, gave Snyder 53% of the vote in 2020, down from 57% in 2018.
"I find it amazing in this environment that we were able to hold as many western PA seats as we did," Marks said. 
However, such Democratic victories provide tempting Republican targets in future elections.
Trump's ability to spur turnout
In my 2018 recap, I noted that the Republican vote sagged between 2016 and 2018, and that it could rebound in 2020 with Trump back on the ticket. That speculation turned out to be accurate – and then some.
The following chart shows voter turnout in the six southwestern counties for the top races in 2016 (president), 2018 (U.S. Senate), and 2020 (president).
After a dip in every county in 2018 – by between 17% and 24% — turnout not only rebounded in 2020 but actually increased compared to 2016. All six counties saw an 11% to 12% increase in total turnout over 2016, except for Washington County, which rose by an even larger 16%. These increases were broadly in line with the statewide increase of 13%.
"Trump has laid the foundation for a Republican Party realignment that will outlast him and set the party on a sustainable path for the future," Ward said.
Democrats agree that Trump was a turnout engine in the region, though they aren't as sure that Trump-focused voters will show up for lower-turnout midterm elections.
While "there is genuine enthusiasm for President Trump," Butler said, "this is where core Republicans may struggle if they can't figure out how to get the Trump loyalists into their fold permanently."