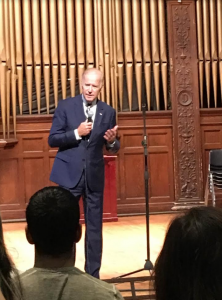 It is 10:45 a.m. and the line to get into Drexel University's Main Court is about a mile long. Why? Because, Vice President of the United State Joe Biden arrived to discuss National Voter Registration Day and the future of our country. Students of every race, age, and major stood in line interested in hearing what the Vice President had to say.
Waving, smiling, and dressed in a navy suit Joe Biden lit up the room with his personable attitude. He immediately brought up last night's first round of presidential debates between Clinton and Trump, while simultaneously noting his support for Clinton.
"Well, folks, you saw that debate last night, didn't you?," he began. "I tell you what, if this choice isn't clear, I don't know – oh, my Lord. Look, on a very serious note, and I mean it – I'm being sincere. The – Donald Trump is painfully uninformed. No, no, this isn't for cheering. This – I want to make an important point. And his policies are not very helpful for the country. But what bothers me about this race, and I know I'm sort of a one-man broken record on this, but what bothers me about this race is how palpable his cynicism is about the American people.
Biden then made a more personable approach that was aimed at everyone; middle class families who struggle to send their kids to college, struggle to pay taxes, while working small jobs; something he believes that Donald Trump does not understand.
"He acknowledged that he didn't pay taxes because, he said, it's – he said because he's smart," the Vice President continued. "It makes him smart. Tell that to the janitor here who's paying taxes. Tell that to my dad who, when he was alive, busted his neck working 60 hours a week, paid all his taxes. Tell that to your mothers and fathers who are breaking their neck to send you here, who are paying their taxes. No, I really mean it. It angers me. It angers me."
Character is another point Biden emphasized. Without this quality, voters are unable to trust the candidates running for the presidency. At a time when many millennials are wondering if it really matters who they vote for, the VP gave a frank vision of what he thought a Trump presidency would be like.
"Think about it," he challenged the crowd. "Can you imagine Ronald Reagan, the most conservative president we'd had in a long – can you imagine him saying it's good business to take advantage of people's misery, rooting for that misery? I really mean this. I am not joking. I'm not kidding. What does it say about this man? And he wants to be president of the United States of America?"
"Ladies and gentlemen, he does not – he does not have the basic, fundamental sensibilities and values that almost every American politician – left, right and center – I know has," Biden continued. "They disagree on how to make things better for people, but they don't take pleasure from 'you're fired.' They don't take pleasure from knowing that they will benefit. That's what Wall Street did. That's what Wall Street, the greatest allocator capital in the history of the world, went awry, because they decided that they could take advantage betting against the American people."
Financial planning was also discussed as the Vice President detailed the Administration's efforts to fix, strengthen, and create more jobs across the United States.
Joe Biden asserts that Donald Trump does not want to help those who are struggling and instead is siding with those who are part of a rigged system that will put this nation back to square one.
"Think about this because this is really going to affect your lives. Think about this," he implored. "What did he say? I'm paraphrasing from last night. He said, the money should go to the wealthy people because they do good things. Folks, the greatest threat to economic growth in the world is not Joe Biden, progressive Joe Biden, liberal Joe Biden, whatever the hell you want to call me – not Joe Biden but the IMF, the World Bank, Standard & Poor's. The greatest threat to economic growth is the concentration of wealth in the hands of just a few."
He went on to ask described Trump's policies in regards to taxes.
"And what's he proposing? Look at the tax proposal. As my wife, who's a professor, says, 'Google it.' Don't take my word for it. No, I mean, that. I really mean it. My God. The tax plan's going to cut trillions of dollars, the overwhelming benefit to the super-wealthy. It's going to do one of two things. Over 10 years, it'll put us in debt around $9 trillion dollars more, or we're going to have to cut every program out there, counting Social Security, Medicare, Medicaid, by 40 percent. Come on, man," VP Biden said in exasperation.
Biden finally turned to the most serious issue, foreign policy, and discussed how other countries like Australia feared what would happen if Trump became President. What would be the repercussions across the rest of the world if the Republican became Commander-in-Chief?
"I get a call," he reveals. "Two of my friends, good acquaintances, the presidents of Latvia and Lithuania, desperately need me to come to the Baltic states to meet with the three presidents, Latvia, Estonia, and Lithuania, to assure them that Donald Trump doesn't represent America when he says that he would not honor Article 5, which means attack on one is an attack on all, in the NATO treaty, unless they met certain other requirements beyond being a member of NATO. Think about that. Think of the damage he's already doing to America's standing in the world."
Vice President Biden finished with a call to action for the assembled supporters.
"We've had candidates before try to attempt to get elected by appealing to your fears, but they've never succeeded, because we don't scare easily. Americans never bow, they never bend, they never break. They endure, they overcome, they move forward, and that's why it's my absolute conviction that this is the most optimistic time in modern history for the United States of America," he declared. "We are second to no one. That's the history of the journey of America. And God willing, Hillary Clinton and Katie McGinty will write the next chapter of that history. So register, vote, go out and get engaged. We need you badly."