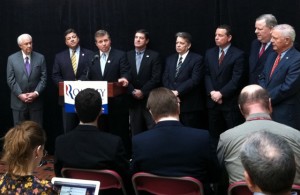 Citing a relative advantage for down-ballot Republicans, several congressmen and party leaders endorsed former Massachusetts Governor Mitt Romney today in Harrisburg.
It was a show of force by some of the most prominent leaders in the PA GOP, including Congressmen Charlie Dent (R-Lehigh), Jim Gerlach (R-Chester) and Bill Shuster (R-Blair). Dent said Rep. Mike Fitzpatrick (R-Bucks) was unable to attend, but also supports Romney.
"Particularly in eastern Pennsylvania, he'd be the best candidate for candidates down ballot. It's my view he has the most crossover appeal of all the Republican candidates in the field," said Dent.
The press conference signals that Romney is preparing to fight hard for Pa., despite former Senator Rick Santorum having the home field advantage here. The PPP poll released today showed Santorum leading by 18 points over Romney.
Almost all of the men endorsing Romney has deep ties to Santorum, and each endeavored to cast his endorsement of Romney in a positive light. Al Novak, former chairman of the PAGOP, captured the tightrope walk:
"Rick Santorum was a success story in Pennsylvania, but we do not believe that he has… Let me say it this way: Mitt Romney has the best opportunity to win the presidency as a Republican candidate and to get this county back on track economically."
As to whom Tom Corbett will endorse, Novak said neither he nor any endorsers could speak for the Governor.
"I'm of the opinion that when it seems we have a nominee – and I believe we nominee now in Mitt Romney – that it's important for us to get behind him," Gerlach said. "It's clear to me he is going to be the nominee, even if he doesn't get there by June."
"The train's pulling out of the station, it's time to get on board."
All of his endorsers said they think Romney will make a serious run at Pa. But ultimately, the result of the primary does not impact the allocation of delegates who are elected separately in each congressional district. Pa. has 72 delegates, none are tied to the primary results.
Indeed Shuster, who is running for delegate in the 9th district, said if he wins the spot he would not vote for Santorum at the convention – even if Santorum wins the popular vote in the primary.
"The primary is not binding to delegates, so mostly likely I'll be for Mitt Romney. Unless Mitt's not in the hunt for some reason," Shuster said.
The full list of endorsers included Dent, Gerlach, Shuster; former Congressman Phil English (R-Erie), Novak, RNC National Committeeman Bob Asher, Allegheny County GOP Chair Jim Roddey, Delaware County GOP Chair Andy Reilly, Franklin County GOP Chair Dwight Weidman and Independence Hall Tea Party (Philadelphia) leaders Don and Terri Adams.
Gerlach, English, Asher, Roddey, and the IHTP had all endorsed Romney previously.
Not all were there to support Romney. Pa. Sen. Jake Corman endorsed Santorum, his long time friend and ally, last year along with about half of the Pa. State Senate's GOP caucus. Corman dismissed the event.
"It's the normal establishment guys supporting the establishment guy. These are all guys that are from DC that are supporting the DC-chosen candidate, Mitt Romney," Corman said. "It's what we've seen in every state, and so Rick Santorum will go for the voters, and Mitt Romney will go for endorsements."
Likewise, Pa. Sen. Daylin Leach spoke to reporters afterward as a surrogate of the Obama campaign. He blasted Romney for changing his position on issues, like the Blunt amendment re: contraceptive coverage, and an Ohio measure to limit collective bargaining rights for public sector unions.
"Mitt Romney doesn't believe anything he says. We know that because on issue after issue, he'll say something, get some push back, and immediately jump back," Leach said. "The only thing he believes in is getting himself elected President."
He said he thought Santorum would be a stronger candidate.
"I think he'd have a lot more appeal in blue collar neighborhoods and things like that. Rick Santorum has said a lot of crazy things. But they've all said crazy things this cycle. The thing is, Rick Santorum actually believes the crazy things he says."
Ana Puig is co-chair of the Kitchen Table Patriots, a Tea Party group in Bucks County. She attended the event as an observer, and perhaps she best sums up the view of the average Republican voter in Pa:
"I'll learn to love whoever the nominee is. Whoever we chose to take Barack Obama out, I'll learn to love, because that's what is the most important."