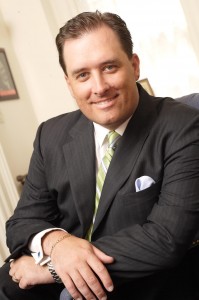 By: Michael Begg, Contributing Writer
Bill Vinsko, a Democratic candidate for Congress in the 11th district, has recently received endorsements from two blue-collar organizations. Last Friday Vinsko received an endorsement from the Plumbers, Pipefitters, and HVACR Technicians Local 520, of Dauphin, Cumberland, Northampton, and Columbia counties. He also received another endorsement yesterday from the Northeastern Pennsylvania Building and Construction Trades Council. This council is composed of 14 different labor organizations ranging from Asbestos workers to Roofers.
"I am honored to be endorsed by such a respected group of hard-working individuals and organizations," Vinsko said, "Pennsylvania needs jobs, and Congress needs to get things done."
Vinsko continued "Pennsylvanians have a great work ethic, and they deserve to have jobs and opportunities here at home."
Vinsko earned his Master's degree in Public administration from Penn State-Harrisburg and his law degree from the Dickinson School of Law. He became the youngest person to ever serve as Assistant City Attorney in Wilkes-Barre and later founded Vinsko and Associates specializing in real estate transactions, estate planning, and litigation. He is also active in his community and has volunteered for United Way, Luzerne County Mental Health/ Mental Retardation Program, and St. Nicholas Church Parish Council.
Congressional redistricting has changed the shape of the 11th district. In the previous two decades the 11th district has been concentrated in Northeastern PA. The new Congressional map still includes the NEPA counties of Carbon, Columbia, and Luzerne. It added the central PA counties of Montour, Northumberland, Dauphin, Perry, and Cumberland.
The new district is creating competition between NEPA Democratic candidate Bill Vinsko of Luzerne county, and Central PA Democratic candidate Gene Stilp of Dauphin county. The two candidates are challenging Lou Barletta, the Republican incumbent looking to become the first Republican to serve multiple terms in the district since Laurence Watres, 1923-1931.
Barletta, of course, brought the district back into Republican hands two years ago by defeating former Rep. Paul Kanjorski.
Stilp received his law degree from George Mason School of Law in Virginia. He served as a legislative aide at the PA House of Reps. where he wrote legislation for 10 years. Stilp is also a volunteer firefighter and EMT and participated in the search and recovery process at the World Trade Center following 9/11.
A Stilp official stated, "One of Gene's absolute priorities is to create more good jobs in the 11th District.  He already has a track record of helping working men and women, through his many years of fighting for taxpayers and consumers.  We are confident that he will have their support in the Primary and in November against Lou Barletta and the Republicans, who have left the middle class to fend for themselves."