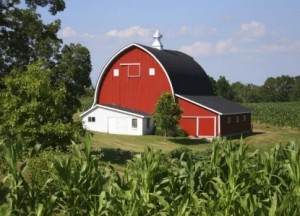 On Wednesday, the U.S. House of Representatives finally passed the Agricultural Act of 2014, a five-year Farm Bill reauthorization.
The bipartisan vote came to 251-166.
The compromise was created by the House-Senate conference committee that was charged with resolving the differences between the separate House and Senate-passed Farm Bills.
Rep. Glenn 'GT' Thompson (R-Centre) of Pennsylvania's 5th District, who is also Chairman of the House Agriculture Subcommittee on Conservation, Energy and Forestry and an acting member of the conference committee, lauded the successes of the bill.
"This farm bill is a big win for the nation's economy and will support jobs across the Commonwealth of Pennsylvania, while making necessary reforms that will save taxpayers billions. I am proud of the hard work put forward by the members of the Conference Committee from both parties and chambers of Congress," Thompson said. "Throughout this process, we have proved that positive movement on important pieces of legislation can be achieved. I urge the Senate to quickly pass this bill and get it to the President's desk for his signature."
The Farm Bill contains policies that deal with several different areas, including agricultural reform and the Supplemental Nutrition Assistance Program (SNAP) reform.
The bill makes several historical steps, including the most significant reduction to farm policy spending in history by improving agricultural programs and making the first reforms to SNAP since the welfare reforms of 1996 while still maintaining critical assistance to those families who need it.
These cuts will average a deduction of $65 to 175,000 Pennsylvania families in their SNAP benefits, which led many Democrats to vote against the bill. Of the Pennsylvania delegation, only one Democrat voted for the bill: Rep. Allyson Schwartz (D-Montgomery).
The Farm Bill also consolidates almost 100 programs administered by the United States Department of Agriculture, including Direct Payments to farmers.
Rep. Lou Barletta (R-Luzerne), another Congressman with a rural district, was also pleased with the passage.
"Like in any compromise, no one gets everything they wanted, but I voted for this bill because it provides our farmers with five years of stability and consistency and protects American consumers," Barletta said. "Crop insurance is strengthened so that farmers will be better equipped to deal with risks that threaten their ability to produce goods. Consumers will benefit from a stable marketplace and won't have to worry about paying inflated prices for necessary food items, like milk.
"In the end," Barletta said, "this bill saves taxpayers approximately $16.6 billion. This bipartisan bill is good for farmers and consumers as well."
As the bill has officially passed in the House, it is currently awaiting action in the Senate.
You can read the full bill here.