For the last few weeks many Senators have feared the wrath of Mayor Bloomberg's promise to use his group Mayors Against Illegal Guns to punish them for blocking a bill to expand background checks for gun purchases.
They get the vinegar, Senator Pat Toomey gets the honey. MAIG's latest ad is set to air in the Philadelphia and Harrisburg markets, and lauds his "courage and common sense" for co-sponsoring a background check bill with Sen. Joe Manchin (D-WV).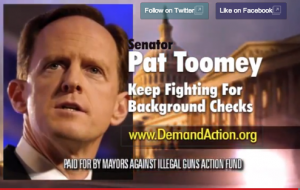 Bloomberg's group has already launched ads against GOP Senators Kelly Ayotte (NH) and Jeff Flake (AZ), but this spot is the first to congratulate one of the bill's supporters.
"Washington likes to argue. Senator Toomey wants to get things done," says an upbeat narrator. "He worked across party lines, leading the fight to keep guns out of the hands of criminals."
"Tell him to keep fighting for background checks," the ad concludes.
The group wants to keep Toomey with the cause and encourage him to stay active in the legislative push. After the bill lost in the Senate, Toomey made clear his belief that the issue was settled and vowed to return to a focus on economic issues.
But the gun issue is following him. He earned headlines across the country last week when he stated that the bill failed because Republicans didn't want to be seen "helping the President."
And in Pa., his role in the gun bill seems to have helped. A recent Quinnipiac poll showed Toomey's approval rating rising to it's highest level of his tenure.