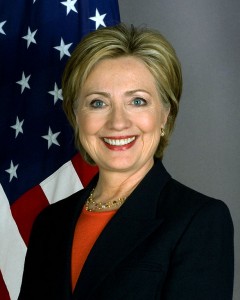 Just what does the Rust Belt think?
That's one of the biggest questions of this presidential campaign.
Those states usually go Democratic although Donald Trump's strategy depends on winning over those electoral votes.
Bloomberg Politics and Purple Strategies sought to poll some of the Rust Belt states, choosing Pennsylvania, Ohio, Michigan and Wisconsin. Additionally, they targeted middle class voters by surveying households with an income of between $30,000 and $75,000. Unfortunately, they did not provide a state-by-state breakdown of the results yet the statistics still provide some intriguing insights.
First, Clinton leads Trump head-to-head by a 46% to 39% margin with 15% unsure.
42% of respondents, though, believe Clinton will win compared to 34% who think Trump will prevail.
Government and Politicians
One of the more interesting contrasts is that these voters hate government generally but still like the President.
Two-thirds believe the country is on the wrong track and 74% want major changes to the way the government does things.
When it comes to President Obama, however, 47% approve of the job he's doing while 44% disapprove. Furthermore, the President has one of the best favorability ratings among politicians tested with 50% having a favorable opinion against 49% with an unfavorable one.
In fact, Pres. Obama was one of only three officials with a favorability rating above water. The other two were Bernie Sanders (55/41) and Bill Clinton (51/48).
Elizabeth Warren was also just a point under water (25/26) although many did not recognize her.
These results are a positive for Hillary Clinton, assuming Sanders and Warren vigorously support her.
The Democratic front-runner didn't fare as well (42/56) although she did better than Trump (34/64).
Other Republicans also struggled including: Mitt Romney (28/64), Newt Gingrich (23/58) and Paul Ryan (34/49).
Closeness to Trump doesn't seem to be a factor in the above numbers either. Romney has been perhaps Trump's biggest GOP detractor while Ryan has been notably equivocal and Gingrich wants to be included on the VP shortlist.
Overall, respondents express negative feelings toward the entire campaign. Afraid (31%), disillusioned (19%) and pessimistic (17%) all finished above optimistic (16%) and enthusiastic (9%).
Clinton or Trump?
Bloomberg also gave voters a list of phrases and asked them which candidate each best described.
Clinton lead on the following: possesses the skills needed to conduct foreign policy (54/22); has the right temperament to be President (49/22); is ready to lead our country on day one in office (46/32); will fight harder for the middle class (43/29); would be a good role model for children (39/14); would be a good guest in my home (39/24); cares more about people like me (39/26); understands the challenges facing people like me (38/27); shares my values (35/28); and is trustworthy (29/23).
Trump lead on the following: will change the way Washington does business (50/22); knows what it takes to create jobs (46/31); will combat terrorist threats at home and abroad (46/35); has new ideas to lead us into the future (42/31); could get things done in Washington (39/37); and would rein in the power of Wall Street (38/22).
Finally, voters were given a series of common critiques of the candidates and were asked if they were bothered by them.
The results show that some of the tactics employed by the campaigns so far may not be effective. For instance, voters don't seem to care about Bill Clinton's affairs (27%) or Trump's position on the minimum wage (39%).
The biggest concerns respondents had about Hillary concerned her handling of Benghazi (51%), ISIS (49%) and Wall Street (47%).
The biggest concerns respondents had about Donald concerned his comments about women (60%), his tax cuts for the rich (57%) and the controversy over Trump University (51%).
So expect to hear more about those issues in the months to come.
Bloomberg Politics and Purple Strategies surveyed 803 likely general election voters with incomes between $30,000 and $75,000 in Michigan, Ohio, Pennsylvania and Wisconsin. It was conducted from May 18th to May 24th. The margin of error is +/- 3.5%.