http://youtu.be/0MvzaLNDLsE
The race for PA's 8th district continues to be one of the most competitive congressional races this cycle. The latest comes from Democrat Kathy Boockvar.
In early June, Rep. Mike Fitzpatrick (R-Bucks) threw his first campaign punch, linking his opponent Kathy Boockvar to Nancy Pelosi.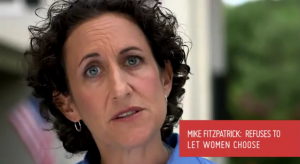 Now, Boockvar is on the offensive. In a video released Friday, she claimed that Fitzpatrick is waging a war against women. She and several other women attack his record as Congressman straight to camera:
"You voted to defund Planned Parenthood and you to let insurance companies charge women more, just because we're women. That affects my life. And Mike Fitzpatrick refuses to let women choose to make our own choices about our health," Boockvar says.
The video closes with a threat.
"Congressman Fitzpatrick: If you want to turn back the clock on women's rights, you're going to have to go through me."
The video parallels recent efforts by the CREDO Super PAC's to blast Fitzpatrick over women's rights.
Credo Mobile, a San Francisco-based company that formed a super PAC and devoted millions of dollars to congressional campaigns, is waging a "Take Down the Tea Party Ten" campaign to defeat Fitzpatrick and other Congress member who support "extremist Tea Party values."
The PAC recently formed the "Women Against Fitzpatrick" Committee to further criticize the Congressman.
Fitzpatrick Campaign Manager Faith Bender said CREDO is telling lies in order to support a "radical, left-wing congressional candidate," before going after Boockvar for trying to take away patients' rights to make their own medical choices.
"With 85 percent of women making the health care decisions for families in America, it is unconscionable that Boockvar continues to support bureaucrats controlling health care, not patients and doctors."
It's clear Boockvar is trying to keep women's rights central to her campaign; aside from the video, she has also been emailing supporters to solicit votes for an online contest by EMILY's List, a group dedicated to electing pro-choice Democratic women.