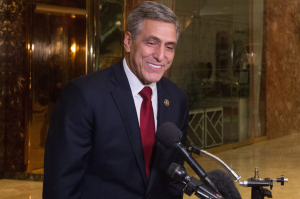 Lou Barletta will not be the next Secretary of Labor.
This morning it was reported that Donald Trump had chosen his next cabinet member:
BREAKING: Hardee's/Carl's Jr. CEO Andy Puzder will be named Trump's labor secretary nomination. Announcement coming shortly.

— Ben Penn (@benjaminpenn) December 8, 2016
Shortly afterward, Congressman Barletta released a statement asserting that he had passed on the role.
"It was a great pleasure to meet with President-Elect Trump to discuss his transition to office and our mutual goal of moving America forward," Rep. Barletta stated. "We share many priorities for the future of the country, including protecting and growing American jobs, strengthening national security, enforcing our immigration laws, and rejuvenating our crumbling infrastructure system.  I am proud to serve on his Transition Team Executive Committee."

"It was a tremendous honor for President-elect Trump to ask me to consider taking a place in his administration," he continued. "After much thought, prayer, and discussion with my family and close friends, I decided today to remain in Congress and I withdrew from consideration for Secretary of Labor. Because of my involvement in the president-elect's campaign and my relationship with the incoming administration, I will have an opportunity in the House of Representatives to accomplish more on a variety of issues that I have cared about for so long, including immigration policy, transportation infrastructure, and jobs. Having helped the campaign with the development of those policies, coupled with serving on key committees in Congress and having a direct pipeline to the White House, I will be better positioned than ever to serve the people of the 11th District."
Rep. Barletta had originally been considered for Secretary of Transportation until Elaine Chao was picked instead. He then revealed Trump asked him about the Labor Department.