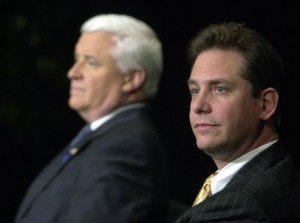 Tom Corbett won't have to watch his right flank next year. Montgomery County Commissioner Bruce Castor Tuesday said he would not challenge the Governor in a GOP primary.
In an emailed statement he said:
"After a great deal of consideration, I have decided not to run for Governor in 2014.
"I want to thank all those who encouraged and advised me over the last six months. Simply put, my duties as Montgomery County Commissioner, a lawyer with Elliott Greenleaf, and the responsibilities to my family, make a massive undertaking such as running governor impossible for me this election cycle."
It's good news for Corbett, who's had positive but not overwhelmingly strong numbers among Republican voters in a variety of polls.
Castor first floated a bid in December and toured the state to meet conservative activists and donors, most recently at the Pa. Leadership Conference in April.
Corbett lead Castor 49% to 21% according to a Harper Polling survey in March. He created a website and generally needled to Guv over the last few months.
His departure from the race will make it easier for Corbett in the hypothetical event that he chooses to support an expansion of Medicaid, which Castor sharply opposed.