By Keegan Gibson, Managing Editor
Remember when Republicans couldn't find anyone to run against Bob Casey?
Neither do we.
David Christian, the Bucks County veterans' advocate and former congressional candidate, has thrown his hat in the ring against the incumbent Senator.
Though he will not attend tonight's Senate debate hosted by the conservative Pennsylvania Leadership Conference, Christian will begin his media push Friday morning with an appearance on the Dom Giordano Program on 1210 WPHT in Philadelphia.
Coal industry veteran Tom Smith and businessman and former congressional candidate Steve Welch have also declared bids for the seat. Former State Rep. Sam Rohrer along with businessman and former PA-12 candidate Tim Burns are also considering the campaign.
Here is the Christian campaign release:
David Christian, Vietnam War hero, veteran's advocate, and Philadelphia businessman, is officially announcing his candidacy for the United States Senate in Pennsylvania.  Christian will be challenging Senator Bob Casey Jr. in 2012.
"America is hurting and it is directly due to the failures of President Obama and Senator Bob Casey.  We need leaders who have been tested to make courageous decisions and who will take America back in the right direction" said Christian.  "I'm running for U.S. Senate to rock the boat in Washington and put America back on the right course."
Christian has worked with various federal agencies in Washington D.C., including the U.S. Department of Labor.  He has served under four U.S. Presidential Administrations.  He is especially proud of his work in developing jobs and outreach programs for returning war veterans transitioning back to civilian life.  He has been responsible for drafting some of the first Agent Orange legislation and for founding assistance programs establishing Pennsylvania as the first and only state in compliance with federal regulations with respect to serving employment needs of combat veterans.  He currently presides over a small manufacturing company in Northeast Philadelphia.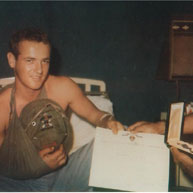 Added Christian, "In June, we set up an exploratory committee and found immediate financial support; I'm optimistic about our chances.  While just in the beginning stages, we've already raised tens of thousands of dollars.  I believe we are in the best position to take on Bob Casey and beat him. People have come to me asking me to serve our country again.  They're worried about the economy and the failures of Barack Obama and Bob Casey.  America has a deficit of leadership in Washington DC.  We must send tested leaders to Washington to rebuild the confidence of America and regain our  rightful place as leader of the free world."
"I think my experience and drive make me the best candidate for the job.  As a Ronald Reagan Republican, I, too, believe that America's best days are ahead of us.  I'm asking all Pennsylvanians to join me and return America to that "shining city on a hill."
David Christian serves on the board of The Phoenix Society for Burn Survivors and The Legion of Valor; the nation's oldest veterans' organization.  He is the recipient of many citations and awards including two recommendations for the Medal of Honor, the Distinguished Service Cross, two Silver Stars, and numerous other honors for valor.  He and his wife, Peggy, reside in Bucks County and have four children.