By Keegan Gibson, Managing Editor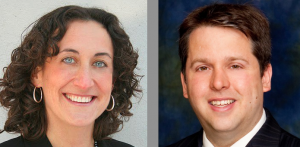 Kathy Boockvar and Det Ansinn are talking with the Democratic Congressional Campaign Committee about a possible bid against Rep. Mike Fitzpatrick, PoliticsPA has learned.
The two Bucks County Democrats each ran for office this year – Boockvar for Pa. Commonwealth Court, Ansinn for County Commissioner. Both were unsuccessful.
Ansinn confirmed his meeting with the DCCC, and said he was actively considering a campaign.
"I can confirm that I met with the DCCC, but beyond that I'm not sure what I'm going to do," Ansinn said. "I'm giving it real consideration looking at the challenges we face in the 8th district."
Update: Boockvar confirms that she indeed did meet with the DCCC, as well as EMILY's List, saying both meetings went "very well." She says she'll make a decision on a run within a few weeks, and said she highly doubts there will be a Democratic primary.
"I honored that many people have been asking me to run. And they've been asking me to run because of my career as an advocate of the people," she said. "My sense is that voters are particularly angry right now at career Washington politicians who have forgotten why they're there – to come up with real to solutions that people are dealing with right now."
PoliticsPA was unable to reach Boockvar for comment Thursday afternoon, but multiple sources in Pa. and DC. confirm that she is in the discussion. One Pa. Democratic insider said Boockvar had an edge in the recruitment process, as she might have the fundraising support organizations like EMILY's List that recruit female candidates.
Another Democrat, Cynthia Philo, was mentioned as a possible DCCC recruit earlier in the fall, but her status is in doubt after she lost her re-election bid for Doylestown Township Supervisor last month.
Multiple sources indicate that incumbent Commissioner Diane Marseglia was heavily courted to enter the race, but has ruled it out.
Pa.'s 8th district has typically been one of the most contested seats in the country and is considered by many to be a national bellwether. Fitzpatrick lost his re-election bid to Army veteran Patrick Murphy in 2006, but recaptured it in 2010. He said during last year's election that he would serve only three terms in Congress, meaning at the latest, the seat will be open during 2016's presidential contest.
A source close to the Fitzpatrick says that the congressman is not taking anything for granted, and is focused on maintaining a strong presence in the district.
According to the most recent redistricting rumors, the 8th district will likely shed its portion of Philadelphia in exchange for more Republican-friendly territory in Montgomery County. Bucks County will likely remain in tact, meaning a presidential election surge or Democratic wave could be enough to put it in the other column.
That said, Dems have had a rough few years in Bucks County. Republicans swept the county-wide elections this year, it went red for Tom Corbett and Pat Toomey in 2010, and in 2009 voted for every GOP statewide candidate.
These two new recruits bore the brunt of a difficult political environment in November.
Boockvar, an attorney, lost to fellow Bucks County resident Anne Covey by a margin of 52.4 to 47.7 percent statewide, and 55.3 to 44.7 percent in Bucks County.
Ansinn, currently the President of Doylestown Borough Council, finished fourth in his bid. Incumbent Commissioners Charley Martin, Rob Loughery and Diane Marseglia (a Democrat) took 28.1, 26.1 and 25 percent of the vote respectively. Ansinn took 20.9.