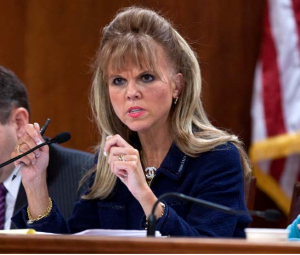 Pa. Senator Jane Orie was found guilty on 14 of 24 felony counts by an Allegheny County jury. Once sentenced, she will lose her seat as well as her pension.
KDKA's Jon Delano reported that Orie was found guilty on charges related to theft of services, conflict of interest, and forgery, and not guilty of perjury.
The initial trial on charges of corruption was declared a mistrial last year, when Judge Jeffrey Manning said that documents submitted by the defense appeared to be forgeries.
It ends several days of jury deliberations, when it appeared that they may deadlock and force another mistrial.
Judge Manning has promised swift sentencing, which would compel Orie to vacate her Pa. Senate seat and precipitate a special election.
PoliticsPA looked at each party's bench of candidates last year. We checked back in with party insiders, and the favorites to be the nominees are the same: for Republicans, former Congresswoman and Pa. Senator Melissa Hart; for Democrats, attorney and Ross Township Commissioner Dan DeMarco would be the front runner for the nomination. He challenged Orie in 2010.