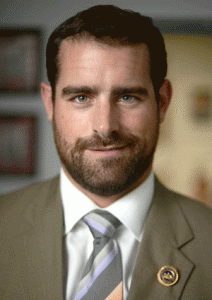 Brian Sims is exiting the PA-2 Democratic primary.
On his Facebook page, the State Rep. announced that he is abandoning his congressional run. Instead, he is endorsing Dwight Evans.
Last month, an internal PPP poll showed Evans leading the field with 37%. Embattled incumbent Chaka Fattah received 21% while Sims got just 6%.
"Having walked the streets of the District, and spoken to thousands of neighbors and constituents, I now feel that my friend and colleague, Dwight Evans, is best equipped to take our fight for justice to Washington, DC and will serve Philadelphia well in Congress," Sims wrote.
"This was not an easy decision, but please know that I am so grateful for your help and support over these past few months."
Sims then turned to his re-election campaign, which he was originally running concurrently with his PA-2 campaign.
"For now, I have a re-election campaign to win and I hope that you will continue to support my efforts, especially as I work to expand civil rights and fight for justice and equality as a State Representative," he concluded.
Ben Waxman is running against Sims in the HD-182 Democratic primary.
The 182nd district consists of Center City Philadelphia, specifically Rittenhouse Square and Washington Square West.