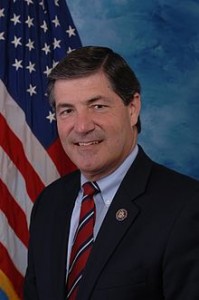 PA-6 Congressman Jim Gerlach (R-Chester) will not seek reelection in 2014.
"Nearing the end of my sixth term in the House and following 12 years of public service in the Pennsylvania House and Senate, it is simply time for me to move on to new challenges and to spend more time with my wife and family," Gerlach said. "This is a tremendously difficult decision because I have had the opportunity to work with a multitude of dedicated public servants throughout the years. Together, we have worked to strengthen our communities and create opportunities for the hard-working families we have been privileged to represent."
His campaign manager Vince Galko confirmed that Gerlach is not going to enter the Republican primary for governor against Tom Corbett.
Gerlach was a Democratic target in 2012, but redistricting made his seat even safer for the Republican, but from the 2002 until the 2010 election, Gerlach's district was one of the nation's most competitive. In his first four elections, Gerlach never won with more than 52.10%* of the vote but as long as Gerlach held the seat, it was safe for Republicans.
After redistricting, the district shed heavily Democratic territory in Lower Merion Township, Coatesville, Norristown, and its portion of Reading; at the same time, it gained heavily Republican portions of Berks and Lebanon Counties. In 2012, Gerlach was re-elected easily, winning a decisive 57.19% of the vote over Dr. Manan Trivedi. At the same time, Mitt Romney carried the 6th district with 51.32% of the vote.
Republican names already rumored to be seeking the seat are Chester County Commissioner Ryan Costello, former Senate candidate Sam Rohrer, who lives just outside the district, and State Senator John Rafferty.
Senator Bob Casey's brother, Chris Casey lives in the district and may seek the seat.