State Sen. Mike Brubaker (R-Lancaster) will not seek re-election in 2014, three Republican sources told PoliticsPA.
Several attempts to reach Brubaker's office for comment were not successful.
Update: Brubaker confirmed his intent to retire "citing his desire to spend more time with family and explore new private sector opportunities" in a statement Monday afternoon.
"Over the years, the people of Lancaster and Chester Counties have humbled and honored me with their tremendous confidence and support," he said. "Now it is time to re-invest and focus my time and attention to the family that has endured a great deal in their unwavering support of my public life."
He continued, "I want to assure my constituents, whom I serve, I will remain fully engaged as this General Assembly addresses the serious challenges we face, particularly in my role as Chairman of the Senate Finance Committee and as an advocate and voice for the people of my district and this Commonwealth."
Brubaker, 54 of Lititz, is well regarded in the Senate on both sides of the aisle. He chairs the Senate Finance Committee and presently leads GOP efforts to pass pension reform in the chamber during the budget this June.
An agronomist by trade, Brubaker lead three separate companies. He was unopposed in the general election in 2006 and won re-election in 2010 with 66% of the vote.
Brubaker and his family experienced a tragic loss in 2012 with the death of his son, apparently of a drug overdose.
SD-36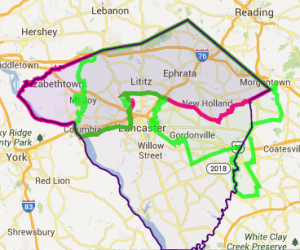 Brubaker's state Senate district is a fairly easy hold for Republicans, meaning the GOP primary will all but certainly determine his successor.
The party has a deep bench in the district, which comprises northern Lancaster County.
State Reps. Ryan Aument and Gordon Denlinger and former Rep. John Bear were mentioned as possible candidates, as were House Republican Campaign Committee executive director Chad Weaver and 2008 Auditor General candidate Chet Beiler
The newly drawn SD-36 loses central Lancaster County along with parts of Chester County, and adds municipalities to the west including Elizabethtown. The old and new lines of the district gave the GOP identical voter registration advantages: 60% to 26%
Denlinger currently represents 20% of SD-36 Republicans, Aument represents 16% of them and Bear represented 12.3%.