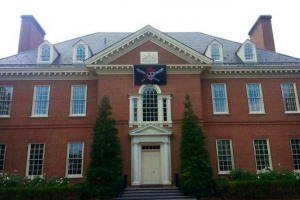 After the Pittsburgh Pirates defeated the Cincinnati Reds 6-2, state politicians pandered to Western PA voters voiced their support of the Pittsburgh Pirates on Twitter.
Miracles can happen! The race for the National League pennant brought together two bitter rivals, Pittsburgh Mayor Luke Ravenstahl and his likely successor, Bill Peduto.
The lure of playoff baseball, the magic of Buctober – brought even me & Mayor Luke together tonight pic.twitter.com/TpfJCUCxnB

— bill peduto (@billpeduto) October 2, 2013
In Harrisburg(h), the Corbetts hung the Jolly Roger on the Governor's Mansion.
The "Jolly Roger" raised at the Gov Residence in celebration of the playoff win by Pittsburgh Pirates last night. https://t.co/0rznEsnjoB — Governor Tom Corbett (@GovernorCorbett) October 2, 2013
Eugene DePasquale, the state's Auditor General, was also excited for Steel City's playoff hopes. (We assume that if he does travel to St. Louis, he won't use state funds to get there).
Pack your bags for St. Louis. #Buctober #BUCN @Pirates — Eugene DePasquale (@DePasqualePA) October 2, 2013
Only one Congressman from the Pittsburgh region tweeted his support of Buctober.
Congrats to the #Pirates for a great win last night! #Buctober continues!

— Bill Shuster (@RepBillShuster) October 2, 2013
Two of the eight Democratic gubernatorial candidates shared their approval of the Pirates. Both of whom hail from the Philadelphia area. Surprisingly, none of the male candidates running in the Democratic primary declared their support of Pittsburgh's playoff run.
Congratulations to the @pirates on their big playoff win last night! #Buctober

— Allyson Schwartz (@SchwartzAllyson) October 2, 2013
Congratulations to @Pirates their fans. Great win for the team and the city. #Buctober — Katie McGinty (@McGintyForGov) October 2, 2013
PoliticsPA Managing Editor Keegan Gibson ears were still ringing Wednesday and his voice gone from jeers of "CUE-TO!"
Awesome game last night. I'm still trying to get my voice back. #LetsGoBucs! pic.twitter.com/HG4GP79xWf

— Keegan Gibson (@KeeganGibson) October 2, 2013
Bonus: Secretary McGinty went the extra mile to show her support for Pittsburgh, by being the only gubernatorial candidate to have her or his picture taken with the giant duck.
I believe that I am the first candidate for governor to appear with the #PittsburghDuck. pic.twitter.com/f0O1e7okr6

— Katie McGinty (@McGintyForGov) October 1, 2013