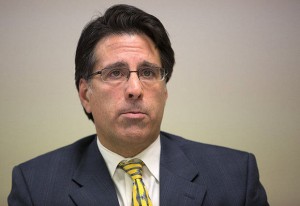 Well, Tom Wolf's first budget plan will certainly be a must-see event.
That's the feeling one gets when viewing Budget Secretary Charles Zogby's presentation today.
Zogby revealed that the state faces a potential shortfall of $2 billion next year. He also mentioned (as the Wolf people repeatedly have) that this is partly the result of one-time budget fixes by the Corbett Administration.
"We've hit the wall in terms of what people in this building are willing to cut," Secretary Charles Zogby said in his briefing.
"Folks are in for a reality check."
The Governor-elect is scheduled to hold a press conference later today concerning the budget outline.