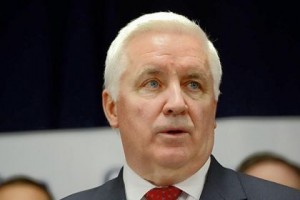 The entire state of Pennsylvania sat on the edge of their seats this morning as they awaited the answer as to whether the budget would be signed.
"Wow, it's quiet in here," Corbett joked in an attempt to break the ice at the start of his press conference.
After detailing those items in the budget that he was proud of and those he was concerned with, the Governor indicated that he would use his line-item veto to block $65 million in general assembly funds and $7.2 million in legislative spending.
In his statement, Gov. Corbett bashed the legislature and public sector unions, particularly PSEA, for the failure to take up pension reform.
"The legislature needs to take action on pension reform," he said. "It is time to stop talking around the edges and support meaningful reform."
The $29.1 billion question, however, wasn't addressed until the Governor was asked whether he would sign the budget.
"I've signed the budget," he declared.
Gov. Corbett strongly pushed back when reporters suggested that his swipe at the legislature would not be conducive to getting pension reform done. He seemed particularly taken aback when one questioner asked why the legislature should give anything if Corbett didn't seem willing to give anything.
"Oh, we have been giving all along," the Governor responded.
It would appear that after seriously considering a full veto, the Governor decided on a more limited approach of attacking the legislature instead. This strategy was previewed in an article by Brad Bumsted of the Pittsburgh Tribune-Review this morning.
This may very well be part of an effort by Gov. Corbett to set up a run against Harrisburg as he embarks on a general election campaign that currently sees him down 22 points.
The Governor, who made his name prosecuting members of the legislature, has never been their favorite individual so the strategy makes sense and has ample truth to it.
"As you know, I came to Harrisburg as an outsider," he commented early on.