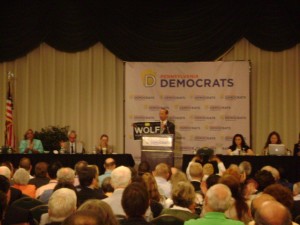 Democratic Committee Chairman Jim Burn was officially re-elected today, ending the ordeal over the position.
While Burn had faced the open opposition of the Wolf campaign until 48 hours before, he betrayed no ill will and was elated on Saturday afternoon.
At the end of the two-day Democratic state party summer committee weekend, Burn convened the meeting of the nomination and election of state party officers. All the incumbents and chosen new-comers were elected unanimously by voice acclamation.
This included Burn, who asked for any other nominations three times just to be sure he had escaped any challenge by McGinty or any other spoiler.
Afterward, he acted like a man who had a large load lifted off his shoulders.
"Thank you for your vote of confidence," Burn told the 299 assembled committee officials and proxies.
Furthermore, he denounced efforts by the media to spin the conflict as a fight and emphasized party unity, as well as his desire to defeat Tom Corbett and elect Tom Wolf. This prompted Wolf chants and even howls from the audience.
Burn, who was wearing a Wolf for Governor button throughout the day, then became his most passionate, to the point that he was channeling Stone Cold Steve Austin.
"If you like Tom Wolf, give me a hell yeah!" he yelled to the crowd's delight and affirmative response. "If you think we're gonna elect Tom Wolf, give me a hell yeah! If we're gonna send Tom Corbett packing, give me a hell yeah!"
He went on to assert that their differences of opinion were what made the Democratic Party the superior party and once more pledged his support to Wolf.
"Tom Wolf we love you, you have my friendship," he declared.
At the apex of the event Burn urged the crowd to hold up their Tom Wolf for Governor lawn signs. After a moment, he called to one of the members of the audience to hand him a sign. Burn stood beaming as he displayed the sign, although watching it you couldn't help but feel he'd rather be raising the arm of the man himself.