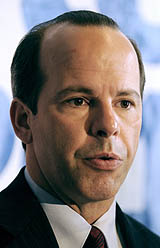 Daniel Malloy at the PG's Early Returns has a nice wrap on Democratic Party Chairman Jim Burn's visit to DC today to talk strategy with the PA delegation. Some highlights:
Burn singled out the Allegheny and Montgomery county executive races [Sound familiar?] as key for the party this year to establish "control of the courthouses" with Democrats who can help create the infrastructure for better Dem engagement next year.
Just because political redistricting is legal "doesn't mean we're going to crawl under a desk and let them do it," Burn said.
The unset lines are an inherent challenge for Congressional candidate recruitment, but Burn said the party has had a lot of interest. He made no news on candidates, though: former Erie Rep. Kathy Dahlkemper and Bethlehem Mayor John Callahan remain on the fence, Burn said.
What about Joe Sestak? Burn said they had to cancel recent plans to meet because of a scheduling conflict but "our relationship continues to grow" and "the Admiral is still looking at public service."
And Politico is reporting that Burn called the 2012 Senate race in PA all but over.
"Republicans have to reluctantly admit they don't have a candidate because they can't beat [Sen. Bob Casey]," state party chairman Jim Burn told POLITICO. "If they don't have someone with name recognition and ability to campaign by now, they're not going to have someone."