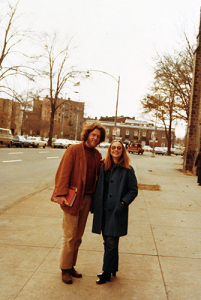 I don't want to alarm any readers, but William Jefferson Clinton was always a bit of a ladies' man. Throughout his life, he was always eager to impress any and every women he met.
That's what must have made one particular woman stand out so much to him. The blond girl with coke-bottled glasses and no makeup who, upon catching Bill staring at her, walked the length of the Yale Library and right up to him.
"If you're going to keep looking at me, and I'm going to keep looking back, we might as well be introduced," she said. "I'm Hillary Rodham."
She wasn't like the other girls and that's why he fell in love with her.
Ever since that day in 1971, Bill (despite or perhaps at least partly because of the trials he put her through) wanted Hillary to go as far in life as he did.
Back then, however, with such little female representation in government that didn't seem to be a possibility. So, as Clinton's best biographer David Maraniss put it, they worked together. Their determination and ambition brought Bill all the way to the White House but also caused some very public embarrassments.
As a result, since the dawn of Hillary's own political career, Bill has practically radiated with a desire to help her as much as she helped him.
Instead, though, he has gotten in the way numerous times. The 42nd President's ability to inflict wounds on those he's trying to help have become so infamous that Rob Harvilla of The Ringer was able to create an entire list of them. 
Nonetheless, while it doesn't get as much attention as his foibles, at times he has done extraordinarily well in this role. For instance, his last address to the DNC was considered vital to Barack Obama's re-election victory.
Clinton will put his heart and soul into trying to repeat that performance tonight.
It may not be the most important speech of his career or even her's, but it is absolutely the most important speech to him.