By Ben Griffiths, Contributing Writer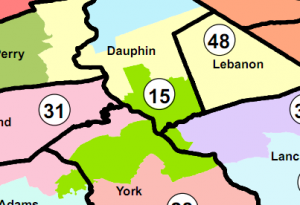 The pressure is on for the state Supreme Court to make a decision on whether the newly drawn district boundaries are constitutional or not, as today marks the first day that local candidates can begin to circulate their petitions to qualify for the ballot.
The court heard the oral arguments of nine appeals against the Legislative Reapportionment Commission's final redistricting plan on Monday and are expected to make a decision to either uphold or overturn the new map by the end of the week. The proceedings were broadcast live on cable television for the first time in state Supreme Court history.
The five-member panel of the Reapportionment Commission approved the boundaries for the House and Senate districts by a 4-to-1 vote in early December. The panel, chaired by Supreme Court appointed judge Stephan McEwen Jr., includes both the House and Senate majority/minority leaders. Their decision set the stage for Democratic lawmakers and citizens that are opposed the new map, to bring their grievances to the high court.
A majority of these appeals center around the constitutional questions raised by the map's division of counties and municipalities. Pa.'s constitution clearly states that the districts need to be organized in a "compact and contiguous" manner.
However, lawyers for the Reapportionment Commission argued yesterday that the redistricting plan "divides 14 fewer municipalities and 12 fewer wards then past plans."
Other suits were filed on behalf of legislative seats that are being transferred under the redistricting plan to new counties. Lawyers for the LRC claim that moving seats like Democrat Jim Brewster from Mckeesport to Monroe County is justified because of the low-population in the incumbant's original district.
Adding to the drama of the day was the presence of Supreme Court Justice Joan Orie Melvin, who has refused to remove herself from the proceedings, despite being the center of a grand jury investigation into her alleged election tampering.