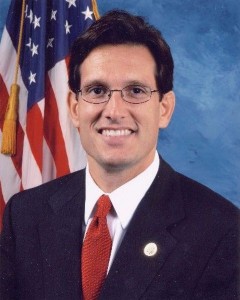 Congressman Charlie Dent (R-Lehigh) is calling in the big guns (or Young Guns if you will) to help raise money for his re-election campaign.
Today Dent's campaign sent out invitations for a fundraising reception headlined by House Majority Leader Eric Cantor (R-VA) at the Hershey Country Club on June 20.
The evening will be divided into two separate events. The first will be a private reception that starts at six and will be open to donors who can pony up either $1,000 to become a member of the host committee, or $2,600 to become a member of the finance committee.
Then at 7:15 the two Congressmen will host a general reception where a $125 contribution will allow you to "join Congressman Eric Cantor and Congressman Charlie Dent for a discussion of national events".
PA-15 is relatively safe for the GOP – especially with Dent in the seat – but not a lock. The Cook Political Report rates the district, which now stretches from the Lehigh Valley to the suburbs of Harrisburg, as R+2. Dent raised a relatively paltry $33,000 last quarter and had $136K on hand. He'll need more than that if he wants to scare away potentially serious challengers.
So far no one has emerged to challenge the 5-term incumbent.