By Keegan Gibson, Managing Editor
Captain Chesley "Sully" Sullenberger, the airline pilot credited with "the Miracle on the Hudson," is taking aim at an amendment offered by U.S. Rep. Bill Shuster (PA-9) that critics claim would scale back aviation safety legislation pushed into law last year by the Families of Continental Flight 3407.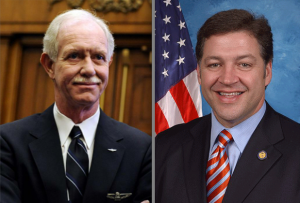 Shuster says that his amendment is in keeping with the goals of President Obama's administration to make regulation more efficient, and won't impact safety precautions already in place.
The Buffalo News has a thorough analysis of Sullenberger's case in an article that was circulated by national Democrats.
"I think it represents a giant step backward in terms of aviation safety," said Sullenberger, who argues that Shuster's measure would limit the government's ability to to impose tough standards to control pilot fatigue and to bolster pilot experience requirements.
If Shuster's amendment becomes law, "at some point in the future, we don't know when, it's likely people will die unnecessarily," Sullenberger said.
Shuster commended Sullengberger for his heroism, but disagreed with his characterization of the amendment. Rather, he said, his effort is in keeping with the message of President Obama and Federal Aviation Administrator Randy Babbit.
"Captain Sullenberger is a well-deserved hero for what he did, and his commitment to passenger safety and airline safety is commendable," said Shuster. "I share in the interest of making sure that aviation is safe for passengers, pilots and every sector of the industry. My focus is to make sure that government regulates more efficiently."
Shuster spokesman Jeff Urbanchuk likewise disputed claims by the Families of Continental Flight 3407 that the measure would scale back existing safety precautions, specifically a bill they lobbied to pass in 2010.
"We voted for that bill!" Urbanchuk said. "We aren't looking to scale it back at all."
He quoted a 2009 speech by Babbit on the subject of pilot fatigue.
"In rulemaking," said Babbit at the time, "not only does one size not fit all, but it is unsafe to think that it can."
"The Shuster amendment is designed to take what President Obama and the FAA Administrator have been saying, and put it into the FAA reauthorization," Urbanchuk said. "It's a process amendment that doesn't go after any rule in particular, let alone pilot safety. It's not retroactive. It would have no impact on previous rule-making, or rule-making that's in the pipeline. It would be forward-looking at regulations that haven't been added into the process yet."
The House Rules Committee today voted to send Shuster's amendment to the floor.
Shuster's amendment has a strong chance of passing the GOP-led House, but it's expected to face a more difficult path through the Senate.