Freshman Rep. Matt Cartwright (D-Lackawanna) got the Colbert treatment Thursday night as he and the Comedy Central host talked about immigration, Catholicism and the transgendered.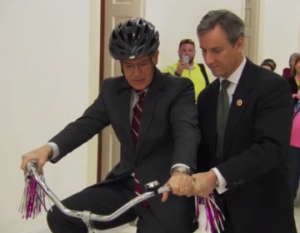 The most memorable scene: Cartwright showing Stephen Colbert how to ride a bicycle.
Best line: Cartwright's new slogan for Hispanic outreach: "Ay caramba! Salir de me bario." Or, "Hey you guys, get out of my neighborhood."
He was the 68th member of Congress to appear on The Colbert Report's long running segment. And it was a successful appearance in that he didn't say anything that can be used against him in a campaign attack ad (there aren't enough Latinos in NEPA for that line to count).
He's the first member of the Pennsylvania delegation to appear on the segment since 2008. Here's a list of 5 the other Pa. pols who have gotten Better Known. All have been Democrats:
2006: Chaka Fattah (D-Phila)
2007: Chris Carney (D-Susquehanna), Patrick Murphy (D-Bucks), Jason Altmire (D-Allegheny)
2008: Joe Sestak (D-Delaware)