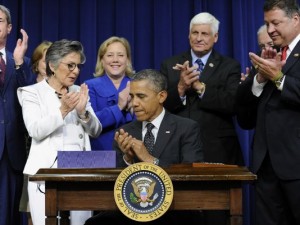 The Water Resources Reform and Development Act (WRRDA) was signed into law today by President Obama after overwhelming support in Congress. Sen. Casey and Rep. Rothfus (PA – 12) released statements praising the bill.
WRRDA aims to improve the nation's water infrastructure in order to facilitate commerce, maintain competitiveness in the global economy, and create jobs. The bill was introduced by Rep. Bill Shuster (R-Hollidaysburg).
"WRRDA cuts red tape, reforms the bureaucracy and accelerates the delivery of water resources infrastructure projects," Shuster said at the bill signing. "This new law will help ensure the country has a modern, efficient transportation network, something that is fundamental to a stronger economy, keeping America competitive, and encouraging job growth. This is an immense accomplishment for the Congress and America."
"I'm pleased that both chambers of Congress passed WRRDA and that President Obama signed this bill into law today, which includes major portions of my RIVER Act that will create jobs, grow our economy and make essential upgrades to the country's aging locks and dams," Casey said. "Pennsylvania's locks and dams play a vital role in creating and sustaining jobs and supporting economic growth throughout the country. In Southwestern Pennsylvania alone, over 200,000 jobs rely on the proper functioning of the region's inland waterways system."
Casey identifies four parts of his RIVER Act that made it into WRRDA. First, the Olmsted Locks and Dams project, which is being built on the Ohio River, will be federalized. Secondly, the definition of major rehabilitation projects will change from $14 million to $20 million. Prioritization of projects and the completion of projects on-time and on-budget are the two final parts from the RIVER Act that are included in WRRDA.
Republican Rep. Keith Rothfus (PA – 12) also lauded WRRDA and explained the benefits of this bill for Pennsylvania. His statement reads:
"Rivers were America's first interstate highway system and to this day they play a central role in our economy, especially in Western Pennsylvania. Strengthening inland waterway infrastructure will make our nation more competitive in the global marketplace and grow our economy. The Water Resources Reform and Development Act reforms the approval process and improves our nation's ability to maintain critical water infrastructure and transportation systems, including seventeen locks in Western Pennsylvania in need of repair."
WRRDA is a bipartisan bill that was supported by a vast majority of the House and the Senate, so it certainly was a rare piece of legislation.
Update: Senator Toomey also released the following statement:
"The Water Resources Reform and Development Act is a step forward for both fiscal responsibility and important projects in Pennsylvania. The bill reduces total authorized spending levels by cutting funding for low-priority projects while increasing funding for higher-priority projects in Pennsylvania."
"This bipartisan legislation is a win for both Pennsylvania and the American taxpayer. Congressman Shuster, chairman of the House Transportation and Infrastructure Committee, deserves much credit for his leadership in crafting a bill that funds $12 billion worth of badly needed infrastructure improvement projects in a fiscally responsible manner."