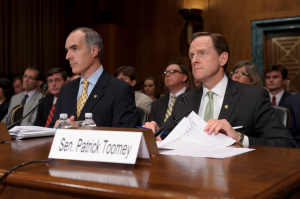 Senators Bob Casey (D-PA) and Pat Toomey (R-PA) are teaming up on legislation to protect and honor the veterans of the Afghan war.
The "No Man Left Behind" bill is intended to make sure that as the U.S. speeds its withdrawal from Afghanistan, the Pentagon will be better able to secure missing and dead service members.
Senator Toomey first proposed this piece of legislation last year on Veteran's Day.
"The members of the armed forces are willing to give their all to defend our country, ensure our safety, and protect the principles of this great nation," Sen. Toomey said then. "We owe it to them to commit ourselves as a nation to the promise that we will leave no man or woman behind."
The Senators spoke with the Tribune-Review last weekend, and expressed their hope that this bipartisan bill will be supported by a large majority in the Senate.
"You know, resolutions don't have the force of law, but when you have a resolution that goes in a bipartisan manner to the entire Senate, it means something," Casey told the Trib. "If we can get this bipartisan resolution passed, it adds greater significance. …The main thing that we're trying to do is reiterate what has been a policy from as long as anyone can remember. We won't leave a fallen comrade on the battlefield."