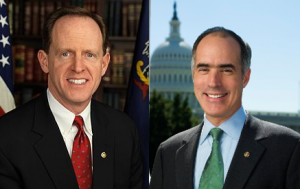 Pennsylvania's Senators Bob Casey and Pat Toomey announced they will continue their agreement to appoint judges to the Federal District Courts in Pennsylvania.  
"The bipartisan process Sen. Toomey and I have engaged in has helped put 16 judges on the federal bench. Filling these judicial vacancies is critical for the administration of justice in Pennsylvania," Casey said in the statement.  
"We will continue our bipartisan agreement to ensure that the most capable, knowledgeable and ethical candidates become federal judges serving Pennsylvania," Toomey said.  
The Senators announced two advisory panels who will provide them with recommendations to fill the vacancies.  The panels will each have 20 members comprised of two co-chairs and 18 members.  Each senator will appoint one co-chair and nine members.  
The Co-Chairs for the Eastern District panel are Robert Ross, a Senior Partner at Ross Feller Casey, LLP, and John J. Soroko, the Chairman and CEO, Duane Morris LLP.  The Western District panel Co-Chairs are Michael Adams, the Founder and Managing Partner, Mike Adams & Associates, LLC, and Heather S. Heidelbaugh, a Partner with Leech Tishman.  
There are currently no vacancies in the Middle District.