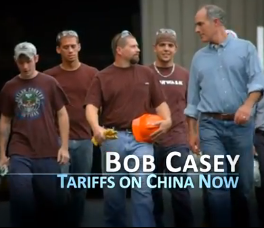 President Obama enacted a trade complaint against China today, much to the approval of Rust Belt Democrats like Senator Bob Casey. He has been critical of Obama regarding Chinese trade issues.
In its World Trade Organization complaint, the administration accused China of illegally boosting its manufacturing exports, including automobiles, with a $1 billion subsidy.
The announcement was made as he heads to Ohio, likely using this as an effort to boost his popularity amongst rust-belt voters not only in Ohio, but in Western Pennsylvania as well.
Senator Casey lauded Obama's aggressive new posture toward China.
"Earlier this year, I pushed the Administration to take on China's unfair trade practices in the automotive sector and I'm pleased they responded by filing this complaint. When China cheats, middle class Pennsylvanians lose jobs,"  said Casey in a statement. "Today's action is a step in the right direction to level the playing field. While the announcement is welcome news, there is much more the Administration can do to confront China's rampant cheating and I will continue to urge them to take additional action."
RNC Spokesperson Billy Pitman says that Obama's move is too little, too late.
"President Obama made a blatantly political move against China's trade practices today after doing nothing for the past 3 and a half years. After the Romney campaign has been highlighting Obama's unwillingness to crackdown on China's cheating for the past two weeks, there's little question why Obama is conveniently concerned about China now," he said.
In response to the GOP's comments, as well as remarks Romney made on the President's decision, Obama for America released a new web video (watch below) refuting the Republican claims, and knocking Romney for ad he released which was stretching the truth.
"The ad says that President Obama hasn't challenged China over unfair trade policies," said Stephanie Cutter, Deputy Campaign Manager for Obama in the video. "Now this is one Romney knows isn't true. That's because he actually attacked the President for being too tough on China when they were flooding the market with tires."
Casey has voted with the President over 90 percent of the time over the past four years. When asked to name a policy where he and Obama diverged, Casey often cited U.S.-China relations.
Casey also attacked his opponent in the Senate race, Tom Smith, for supporting policies that would outsource manufacturing jobs to China and touting his own record supporting higher tariffs on China.
Smith snapped back, saying Casey only supports policies that increase America's debt to China.
"China's currency manipulation practices are unfair and irresponsible for a major player in our global economy," said Smith.  "America and the world must speak clearly and united that we will not tolerate cheating, while expanding American exports to the world's second largest economy. Unfortunately, Senator Casey's domestic policies have crippled economic growth making it extremely difficult for American business to compete globally."