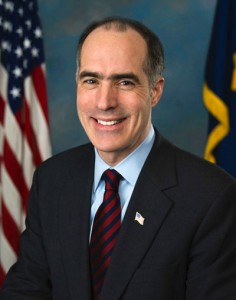 Senator Bob Casey declared his support for an increase in the federal minimum wage today.
Casey is backing S.460, the Fair Minimum Wage Act of 2013. The bill currently has 32 co-sponsors in the Senate, all of whom are Democrats.
"Raising the minimum wage is about basic fairness and economic security for Pennsylvania's workers and families," Senator Casey said. "Congress should have an up or down vote on raising the minimum wage. Passing this bill will increase Pennsylvania's GDP by over $1 billion and add thousands of jobs. It will have positive economic impacts for the entire state not just those working for the minimum wage."
Sen. Pat Toomey's office said the Senator was on the road and not available to comment.
S.460 would lift the national minimum wage from its present level of $7.25 an hour to $10.10 an hour. This rise would take place through three annual incremental steps of 95 cents each until 2016. It would also raise the percentage of the minimum wage that tipped workers receive from 29%, or $2.13 per hour, to 70%, eventually $7.07 per hour. This would also be done through annual increases of 95 cents. Finally, the bill would index the minimum wage to the Consumer Price Index.
This news comes amidst a new nationwide push for an increase in the minimum wage. President Obama recently called for lifting the minimum wage during his speech on income inequality. Additionally, protests have erupted nationwide against fast food companies over employees' complaints about their low pay.