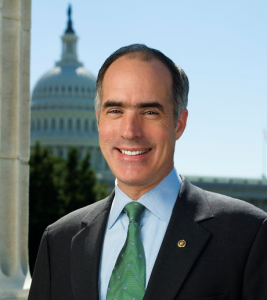 Senator Bob Casey held a press event today to discuss what he believes to be the "vital" importance of reauthorizing the Export-Import Bank. The Ex-Im Bank's charter will expire on September 30 unless Congress acts to renew it.
The Ex-Im Bank finances businesses, both large and small, in the export of American goods to foreign nations. It has been in operation for 80 years and is a self-sustaining agency that operates at no cost to the federal government.
Casey held the conference call in an effort to disseminate information that he feels is lacking in discussion of the Ex-Im Bank in the Capitol.
"A lot of the discussion in Washington has not been very helpful in shedding light on the facts," he said. "There's been a lot of politics, but not a lot of facts."
Casey offered substantial numerical evidence that the Ex-Im Bank is essential not just for the nation as a whole, but in PA specifically. Since 2007, when Casey became a Senator, the Ex-Im Bank has completed nearly $3B in transactions for 246 PA businesses, 160 of which are defined as small businesses.
Overall in the US in 2013, the Ex-Im Bank supported 205,000 jobs at 3,400 companies.
Casey focused on small businesses in his discussion of the Ex-Im Bank's importance. "Access to foreign markets is critical in terms of their ability to survive," he said, but "small businesses can face a lot of hurdles in foreign markets." He cited the refusal of foreign banks to finance overseas products and the inability of American banks to do so due to regulatory issues as examples of such hurdles.
When asked what the impact would be if the charter were not renewed, Casey responded that while projections have not been made, the "inverse of the benefit" would be obviously detrimental to American businesses.
According to a report from Politico, although many Republicans support the Ex-Im Bank, Tea Party Republicans have labeled it as "social welfare" and incoming House Majority Leader Kevin McCarthy (R-CA) has already decided against its reauthorization.
Historically a nonpartisan issue, the Ex-Im Bank's reauthorization seems to be garnering ideological attention this year. The agency may even be used as a pawn in a partisan battle surrounding the upcoming possibility of a government shutdown. Casey called the disputes about the renewal "purely" partisan.
Democratic nominee for PA's 8th District Kevin Strouse joined Casey today in his efforts to support the Bank's reauthorization via a press release calling on Rep. Mike Fitzpatrick to sign a bipartisan letter requesting that McCarthy and Speaker John Boehner bring the charter's renewal to the House Floor for a vote.
"Congressman Fitzpatrick and his Tea Party allies have created such a culture of dysfunction in Washington," Strouse said, "that they won't even allow their Republican Congress to pass a historically bipartisan, pro-business measure."
The Export-Import Bank's reauthorization may very well stay in the political spotlight for the next few months.