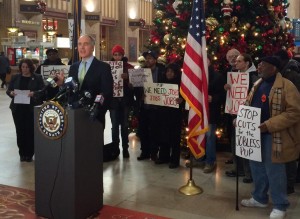 Senator Casey is on a crusade to raise public awareness about the expiration of benefits for the long-term unemployed.
The Emergency Unemployment Compensation (EMU) benefits are set to expire for an estimated 1.3 million citizens at the end of the year and an extension was not included in the latest budget plan.
Democrats plan to pressure Republicans into approving an extension by focusing on local media and events to keep constituents aware of the issue. Senator Casey's efforts appear to be part of that offensive.
Sen. Casey held a press conference in Philadelphia at 30th Street Station with some constituents who will lose their benefits at the end of the year.
"Extending unemployment insurance will help those looking for work and produce growth in the economy," Senator Casey said. "The pace of job growth has increased in the last few months but there are still far too many Pennsylvanians looking for work. Extending unemployment insurance will help those actively seeking work and provide a jolt to GDP as we move into the new year. I'm pleased the Senate is set to vote on this issue soon and I'm calling on both Houses of Congress to take up and pass this legislation."
Gun Control and the Budget
Casey also appeared on MSNBC Live with Thomas Roberts this morning where he spoke about gun control on the heels of the first anniversary of the Sandy Hook shootings and the Murray-Ryan budget plan.
"I think there's a strategy for the short term and the long term," Sen. Casey said when asked how to further the issue of gun control. "I believe the country has changed, particularly with things like limits to magazines and assault weapons, as well as background checks. Next year's midterms should be the first election in American history where the advertising on this issue will be equal."
Roberts also asked whether the Senate will have enough Republican support to be able to pass the Murray-Ryan budget plan that was approved by the House last week. Casey's colleague, Republican Pat Toomey, has already announced that he would oppose the deal.
"Well I'm not paid to be a vote counter," he joked. "I believe we'll get it passed in the Senate, it will be close, but we'll get it passed."