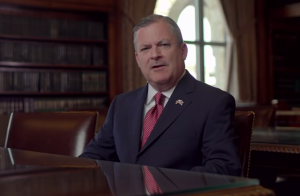 A day before the primary elections, Senator Robert Casey released his official endorsement of Todd Eagen for Commonwealth Court.
"As a fellow Scrantonian, I have known Todd Eagen and his family for many years," said Casey. "They have fought many battles for working families through our court system. I know that Todd has the experience and integrity to serve with distinction on the Commonwealth Court. I proudly endorse him for the nomination in Tuesday's Primary election."
"Senator Casey has been a champion for Pennsylvanians for decades," responded Eagen. "I am very pleased and proud to have his support and hope that I can match his dedication to public service, if I am fortunate enough to serve on the Commonwealth Court."
Eagen has also been endorsed by the Pittsburgh Fire Fighters Local 1, many local labor groups, the Pennsylvania Democratic Party, and other Democratic committees.
The candidate received a "recommended" rating from the PA Bar Association.