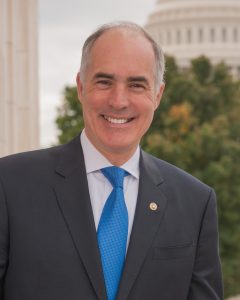 Senator Bob Casey is continuing to set new records for fundraising ahead of the 2018 election.  
Casey announced he finished the first quarter of the year with $10 million on hand.  
"Thanks to the overwhelming grassroots enthusiasm from across the Commonwealth, we're proud to announce that following another successful fundraising quarter, Senator Casey has more cash on hand than any Senate candidate in Pennsylvania history," Casey's campaign manager M.E. Smith said.  
The campaign raised $2.2 million over the quarter, including donations from 66 of Pennsylvania's counties.  The campaign is continuing pushing the support it has gotten from small dollar donors, pointing to 91% of donations coming from donations of $100 or less.  
"Pennsylvania workers, seniors and middle class families know Bob Casey is fighting for them and we are honored by their strong support in this campaign. We look forward to building on this record-breaking momentum as we head into the general election," Smith said.