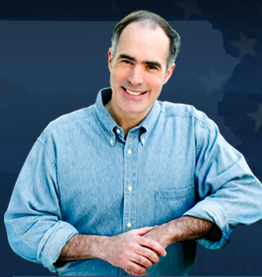 Since a Quinnipiac poll showed GOP challenger Tom Smith just 3 points behind Bob Casey (48 percent to 45), the first-term Democratic Senator has kicked into gear and made his campaign far more public.
He's been dinged in the press, like in John Baer's Daily News column Tuesday, for having his "head in the sand" and being absent from the campaign trail.
Even Ed Rendell has chimed in. Reports the Scranton Times-Tribune:
"Casey? He hasn't run a campaign. He's run one ad, a stupid Tea Party ad," Mr. Rendell said. "The Tea Party ad isn't bad, but that's all they've run. They've run a non-campaign up until now and Smith has put a lot of money into the campaign. … You start spending money, that'll change."
He was busy fundraising, he said (which itself hasn't gone great). No more.
Casey rallied Democratic party volunteers in Erie yesterday. Today, he's holding a press conference in Philadelphia with Mayor Michael Nutter to talk about Medicare and, presumably, smack Smith for his friendly words about controversial GOP plans about entitlements.
And his campaign rebutted one of Smith's central claims – that Casey is ineffective in Congress – in a radio ad around the state.
The 60 second spot features a woman calling a voter information hotline to ask about Smith's attacks.
"There's one about Bob Casey. Some study on his effectiveness?" she says.
"I'm afraid there is no such study. Apparently Mr. Casey's opponent Tom Smith just made it up for his ads," responds a man working for the non-existent 'Voter information hotline.'
"The fact is, Bob Casey lead the fight to pass the payroll tax cut for the middle class. And he's been a leader in fighting against unfair trade laws."
The "study" the radio ad mentions doesn't exist. Neither does any Smith reference to such a study. The Casey radio ad is referring to this Smith television spot, which says in part, "Casey's been called 'the Senate's most ineffective legislator.' He's the invisible Senator."
It does not purport to be citing a study. Rather, it cites a column by J.D. Mullane of the Bucks County Courrier Times. "Punxsutawney Bob is shaping up as the Senate's most ineffective legislator, maybe ever," Mullane wrote of Casey in August, 2012.
The speaker in Casey's radio ad goes on to say that Smith founded a Tea Party and supports plans that threaten Social Security and Medicare.
Here's the ad set to video: