By Ali Carey, Contributing Writer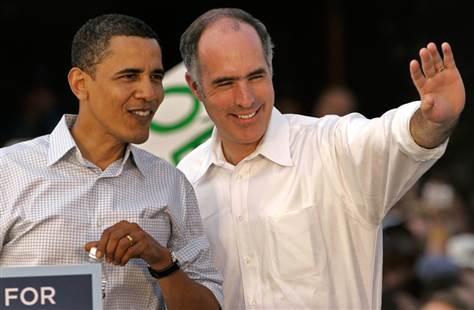 Senator Bob Casey took lumps for missing Wednesday's visit by President Obama to Scranton, especially in light of the fact that he had a fundraiser scheduled in Philadelphia Thursday evening. It turns out that the Senate had votes both days, and Casey missed both events.
Pa. Republicans used Obama's visit to whack Casey repeatedly on Wednesday, contributing to one of the Senator's worst days ever in the press.  RNC Chairman Reince Preibus even offered reporters $100 for a photo of the President and the Senator together.
Casey missed Thursday's fundraiser – with featured guests and Casey family friends Paul Begala and James Carville – for Senate votes, including one on legislation he sponsored to extend tax cuts. The vote failed.
"As the clock ticks down to the expiration of the middle class tax cut, I am disappointed the Senate failed to pass my bill to extend and expand this tax cut to provide $1,500 to the typical working family. My bill would have also provided tax relief to businesses to help them create jobs and grow."
In a spot of silver lining for the Senator, political analyst Larry Sabato said in his Crystal Ball that Casey will likely be re-elected:
"In the Keystone State, a seeming cast of thousands is contending for the Republican nomination to take on Democratic Sen. Bob Casey. These include businessman Steve Welch, ex-state Rep. Sam Rohrer, 2010 congressional candidate Tim Burns, former coal company owner Tom Smith and many others. The field is largely defined, however, not by who is in it, but who is not: The state's Republican House members all declined to run."