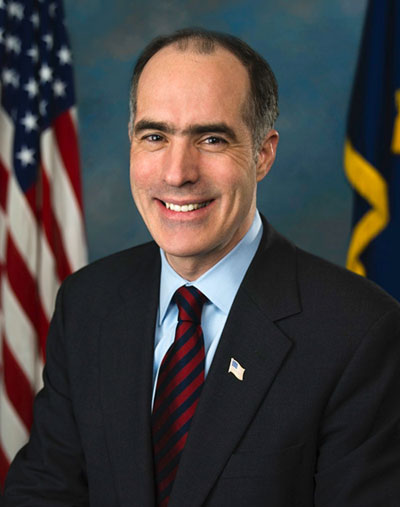 For months, Sen. Bob Casey has made the payroll tax cut extension his top issue. He put himself out publicly on the issue more than almost any other thus far in his low-profile first term, routinely appearing on cable on Pa. news to push the measure. He scored a win when it passed on Friday.
Both Democrats and Republicans from both sides of Capitol Hill came together on Friday to extend an expiring payroll tax break, preserve unemployment benefits and prevent cuts in Medicaid reimbursements to physicians.
The payroll tax extension was ultimately approved 293-132 in the House and 60-36 in the Senate.
"I have fought to keep this tax cut for working families in place because it is essential to the economic recovery," Senator Casey said. "This is a major win for Pennsylvanians who will have more money in their pockets to pay their bills, feed their families and create demand for businesses, which will ultimately fuel the economy."
The measure will provide the average Pennsylvania family with about $1,000 in take-home pay through 2012.
Casey was the sponsor of the original legislation to extend the tax cut and had also offered the first compromise legislation.
The payroll tax extension had been in the works for months as legislators debated on how best to finance the measures.  Republicans supported a freeze pay for federal workers while Democrats wanted to institute a new tax on millionaires.
The measures will be funded through a mixture of sources including a hike in benefit contributions for future federal workers, an auction of licenses allowing wireless carriers to access electromagnetic spectrum, a reduction in reimbursement rates for medical laboratory services and a reduction in the amount of federal funds used to cover medical centers' debt from Medicare and Medicaid patients who fail to remit co-payments according to a report in the Post-Gazette.
Not all in Congress were pleased with news of Casey's success, Sen. Pat Toomey among them.  Toomey argued that the tax cut will not stimulate economic growth and that the funds used to finance the cut would be better used to reduce the deficit.
Likewise, each of Casey's prospective Republican opponents has voiced his opposition to extending the payroll tax cut – calling it an ineffective short-term fix. Instead, they say, they support permanent tax reform.
Some Democrats complained that the bill is unfair to federal workers, while other opponents lamented that the measure should have made the "doc fix" permanent.