Casey talks Obama, 2012 Campaign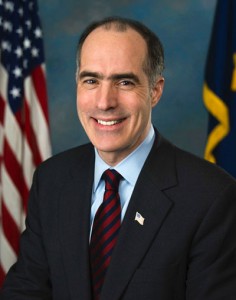 Senator Bob Casey hosted a "Brewskis with Bob" event for Democrats this evening at their state committee meeting. In a brief conversation with PoliticsPA, Casey spoke briefly about the 2012 campaign.
PoliticsPA asked Casey is he thought PResident Obama was a political asset or a liability.
"I'll leave that to the political scientists," said Casey. "Voters don't vote in a block any more. I think they look at what they know about the candidate, and what they know about the challenger"
Asked about a campaign manager, Casey said they didn't have one yet.
"We'll have one in place, we don't have one in place. In the early going of a campaign like this, at least in Pennsylvania, mostly you have fundraisers. We have fundraisers."
At his event and during his speech at the committee dinner, Casey mostly emphasized the incremental economic progress in the country. He pointed to the latest jobs numbers, which showed a decline in unemployment nationally and in PA.