Boehner to Casey: No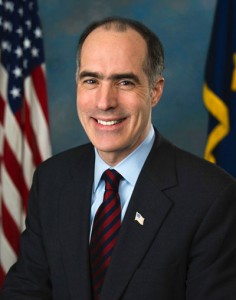 Sen. Bob Casey (D-PA) sent a letter to House Speaker John Boehner (R-OH) Monday calling for broader policy measures from the House to combat currency undervaluation in China.
Last week, the Treasury Department released its annual Report to Congress on International and Economic and Exchange Rate Policies, where China's real exchange rate was deemed subject to "persistent and substantial undervaluation."
Sen. Casey said these practices hindered economic growth in Pennsylvania.
"China's currency manipulation has a concrete, negative effect on the U.S. economy and Pennsylvania jobs, which is why we must take action now to protect our workers and crack down on China's unfair practices," Casey wrote.
"The Senate passed legislation to crack down on China nearly 8 months ago with bipartisan support, so it's time for the House to act to protect Pennsylvania jobs and the American economy."
U.S. government officials have accused the Chinese government of selling their own currency and buying up foreign reserves like the U.S. dollar.
This pegs China's currency to the dollar, preventing its value from increasing and thereby making their exports significantly cheaper than those of competing nations.
Casey has been an active critic of China's monetary policies throughout his tenure in the Senate.
Last October, Casey co-sponsored the senate's Currency Exchange Rate Oversight Reform Act of 2011, which provided identification of misaligned foreign currency. In addition, the bill gave the administration new authority to make "corrective actions" in the case of undervalued currency.
The bill received bipartisan support in the senate, passing 63 to 35. In the House, the Currency Reform for Fair Trade Act, a similar piece of legislation, has 230 co-sponsors.
Casey's letter is unlikely to sway him. Boehner has vocally opposed such efforts in the past – including the legislation Casey sponsored. His office did not respond to a request for comment about Casey's letter; the sub-heading of this story is a bit of fun, based on the Speaker's past comments.
Citing a report by the Economic Policy Institute, Casey said in the letter to Boehner that, by preventing the renminbi (China's currency) from appreciating, China's government has cost the U.S. 2.8 million jobs over the last decade – and contributed significantly to the country's $295 billion trade deficit with China.
Casey said China's monetary policy warranted immediate attention from the U.S. government. He asked Boehner to call for a vote on legislation combating currency manipulation in foreign nations.
"It is critical that the House of Representatives pass legislation to address China's currency manipulation; I urge you to allow a vote on these bills without delay," Casey said.
For legislators and candidates alike, the issue of China's alleged currency manipulation presents a touchy subject – but a popular issue among labor voters who anchor the Democratic base in PA.
Megan Piwowar, Communications Director for Casey's general election opponent Tom Smith, echoed Boehner's objections. Shesaid Casey's proposed legislation could potentially disrupt an already fragile economy.
"While it is a step in the right direction of fighting unfair trade practices that cost American jobs, this legislation is not right for Pennsylvania, or America as a whole," Piwowar said.
"This legislation has the potential to start a trade war that would further delay our economic prosperity, and threaten American consumers at a time when we can least afford it. Let it be known that unfair trade policies, such as undervaluing currency, will not be tolerated."
Casey's letter to Boehner follows a common narrative for the Senator over the past year.
In January, Casey sent a letter to Treasury Secretary Tim Geithner before he was slated to meet with Chinese Vice Premier Wang Qing, calling for Geithner to confront Qing over what Casey called "abuse  of international trade law."
"For too long, China has ignored international trade law and manipulated its currency all to the detriment of Pennsylvania workers," Casey said.
"It's time for the Administration to step up and confront China. Secretary Geithner should use his upcoming trip to tell China 'enough is enough,' the U.S. will no longer tolerate their cheating of international trade law."