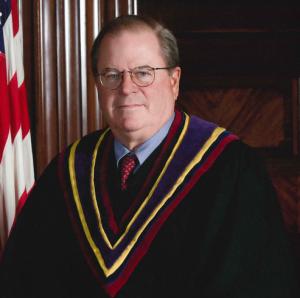 Pennsylvania Supreme Court Chief Justice Ronald D. Castille has announced that he plans on running for retention in November. He will be joining fellow justice Max Baer on the ballot this fall.
Had Castille chosen to forgo running for retention this year, there would have been an election for his seat on bench. Instead, voters will see his name on the general election ballot and vote 'yes' or 'no' on whether to keep him. Castille was elected in 1993 and retained in 2003.
His decision to seek retention is interesting because he will reach Pa.'s mandatory judicial retirement age of 70 in 2014. If retained, he will be forced to step down next year, allowing the Governor to nominate a replacement.
The constitutionality of the mandatory retirement age is being challenged in federal court by a group of Pa. jurists, and Castille has said he's hoping for a favorable outcome in that case.
Since retention was introduced in Pa. in 1968 only one Supreme Court justice (Democrat Russell M. Nigro in 2005) has tried and failed to win another term.
When asked why he was running for retention in an interview with WHYY Newsworks, Castille responded that he believes his 19 years of experience on the Supreme bench are helpful in efficiently moving cases through court system as it works to cover the caseloads of seven justices with only six currently serving.
Orie Melvin
The seventh justice – Republican Joan Orie Melvin – is currently suspended from the court without pay pending trial for theft of services and conspiracy, among other charges. Her absence leaves the court equally split between three Republicans and three Democrats. Melvin asked her Supreme Court colleagues to throw out the case, but they declined.
The Pa. Constitution says that the Governor makes an appointment to fill any vacancy on the court that occurs within 10 months of an election. Since it's already within 10 months of the Nov. 5, 2013 election, if Orie Melvin is convicted, Gov. Corbett will name her replacement pending a two-thirds vote by the Pa. Senate. The seat would go back to the voters in 2015.
Keegan Gibson contributed to this report.