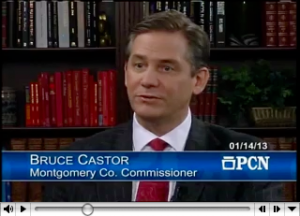 Six weeks after publicly expressing an interest in bid for Governor, Montgomery County Commissioner Bruce Castor is looking to raise his profile. He sat down with Francine Schertzer of PCN to discuss a possible primary challenge to Tom Corbett.
"I'm considering it more and more," he said. "When I first started thinking about this after the fall election and made some tentative announcements early in December, I was more like sticking my toe in the water. Now, I'd say it's more like up to the ankles as some things have developed."
You can watch the entire interview here.
One of those things is Corbett's declining popularity. For most of the past year, the Governor's job approval has been in negative territory.
Castor would have an uphill climb. A recent survey from Public Policy Polling showed Corbett ahead of Castor 51 percent to 11 percent in a hypothetical matchup. Ten years removed from a statewide campaign (he lost to Corbett in the 2004 Attorney General primary), Castor suffers from a name ID deficit.
But the same poll found only 45 percent of Republicans in support of the Governor as their 2014 nominee. 37 percent said they would like to see someone else.
In the PCN interview, Castor stated that he is interested in becoming that "someone else."
Castor said he sees himself as a credible alternative to the incumbent should the Governor's popularity ratings continue to drop.
He made the case that Corbett is a general election liability for Republicans despite deferring on some conservative acumen.
"The Governor has expended his political capital, but not on the things that we cared about, at least the things he campaigned on like pension reform, property tax reform, taking on public sector unions, the right to work, [and] paycheck protection," Castor said.
Castor acknowledged the difficulties inherent in challenging Corbett. He said that the party organization will most likely favor the incumbent Governor — "as it should." He also noted that garnering support and funds will require exceptional effort.