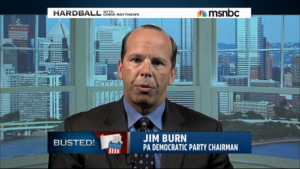 After five years as chairman of the PA Democratic Party, Jim Burn is seriously contemplating the possibility of resigning from his post.
According to Chris Brennan of the Inquirer, Burn has already talked to regional party leaders about stepping down.
This news comes five months before the Nov. 3rd general election and 13 months before the Democratic National Convention in Philadelphia, where the party will announce their presidential candidate.
Burn has had a complicated year, as Wolf wished to install his own party chair after his primary win for governor last year. Although Wolf asked Burn to step down, Burn declined his request.
Wolf explained his desire to replace Burn by noting in an email last June that Governors traditionally get to build their own "team."
In an email of his own in response to those of Wolf and McGinty, Burn beseeched committee members to retain him. "I am respectfully asking for your support to serve another 4 year term as your State Chair. 4 years ago, together, we charted a course that has made this Party one of the best State parties in America."
To avoid a fight, Wolf created a new political action committee for Katie McGinty, the woman he wanted to take over as party chair in 2014. After Wolf's victory in November, he ended up making McGinty his chief of staff.
As Gov. Wolf seeks a possible successor for Burn, Burn is contending that nobody in the party has tried to force him out.
"Nobody came and put a finger in my face. People in this state know better than to do that," said Burn.
Philadelphia Democratic Party chairman U.S. Rep. Bob Brady said that Wolf called him last week in an effort to seek support for Marcel Groen, an attorney who has been chairman in Montgomery County since 1994, if Burn decides to step down. Brady noted that he will support whoever Wolf wants.
Groen believes that he has enough party support to win the chairmanship should it become vacant.
"If the governor would like me to serve in that capacity, I'd love to do it," Groen said.