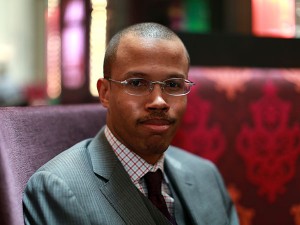 Chaka Fattah Jr., the son of U.S. Rep. Chaka Fattah, will represent himself at his tax trial, despite not having a law degree.
Before granting his request, U.S. District Judge Harvey Bartle strongly urged Fattah Jr. to not represent himself. He said it would be unwise and that a lawyer would do a better job.
Fattah Jr. disagreed that it would be unwise to represent himself.
"My former attorneys and current standby counsel at the Federal Defenders Office are experienced professionals and we disagree on certain matters that are of the utmost importance," Fattah Jr. said outside the courthouse. "I think it is clear that – you heard the judge – my life is on the line here. Nobody is going to be able to make it for 418 years."
Fattah Jr. is accused of filing false tax returns, and using money from business loans to pay for personal expenses. If convicted on all 23-counts, Fattah Jr. faces up to 418 years in prison and $12 million in fines.
Fattah Jr. is not the only Fattah to make headlines recently. His father, a representative from the 2nd Congressional District, is being investigated by the FBI for misuse of taxpayer funds.