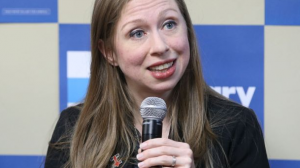 Chelsea Clinton will be stumping for her mother in Johnstown next week.
The Clinton campaign announced today that Chelsea will attend an organizing event at Heritage Hall on the University of Pittsburgh Johnstown campus. It will take place this Saturday, September 24th at 11:15 a.m. Doors open at 10:30 a.m.
Clinton previously visited Pittsburgh in April and Carlisle earlier this month.
Chelsea's husband Marc Mezvinsky is a PA native and the son of a former PA Congresswoman. He is also an Eagles fan.
What I brought home for Marc from my time campaigning in Pennsylvania. He can't wait for Sunday @Eagles pic.twitter.com/DIFYZylAWw

— Chelsea Clinton (@ChelseaClinton) September 9, 2016
https://twitter.com/rubycramer/status/520338764032647168?ref_src=twsrc%5Etfw
That might make things a bit awkward given that the Steelers and Eagles are set to face off just 24 hours later. We'll have more on Clinton's thoughts on that match-up if and when they become available.