By Brittany Foster, Contributing Writer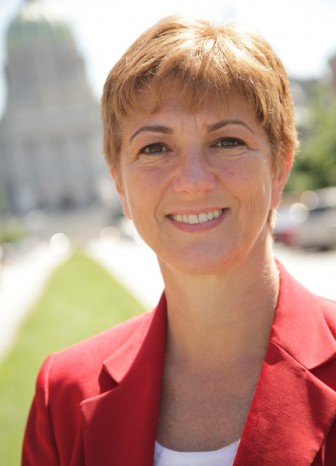 Chester County Treasurer Ann Duke officially entered the race for Auditor General today.
"In these tough economic times, it is crucial that every taxpayer dollar is spent wisely. I will bring the same commonsense, fiscally conservative reforms I have implemented in the Chester County Treasurer's office to the office of Auditor General," she said. Her campaign also launched its website.
Duke has been the Treasurer of Chester County since she defeated an incumbent in 2009. Before that she served as a member of the West Chester Borough Council. She said she would be a candidate earlier this fall and hosted a reception at Republican State Committee.
Duke is the only declared Republican candidate. School choice advocate and MSNBC pundit Joe Watkins, and Pa. Rep. John Maher of Allegheny County are also rumored to be considering a run.
Pa. Rep. Eugene DePasquale of York County is the sole Democratic candidate to date. Allegheny County Executive Dan Onorato, once rumored to be looking at the race, endorsed him today.
"I have a significant financial background particularly in the area of audit through my time in banking but I also have a legal background which I think will be very important. Prior auditor generals with only financial background have not been as effective as they maybe could be," Duke told PoliticsPA.
Saying that the Auditor General's office requires a conservative committed to reform, Duke touts her record with Chester County. She reduced the salary expense of the office by 15 percent over a two-year period and instituted several major reforms making the office easier for citizens including accepting credit cards, online dog licenses and allowing taxpayers to pay their taxes online.
Duke is already throwing herself into campaigning across the Commonwealth. "I have spent a lot of time traveling around PA already talking to state committee people and county chairmen and talking to voters. The first step in this process is really introducing myself to people, telling them what my record is. My professional and political record and background speak very strongly about who I am and how I govern. That has been the first step in the process."
Her campaign has retained the services of Cold Spark Media, the firm run by former Pat Toomey campaign manager Mark Harris and long-time Mike Turzai adviser Mike DeVanney.