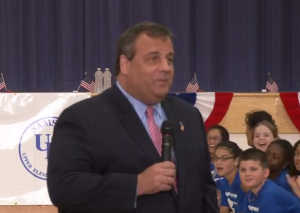 Last week, PoliticsPA readers voted and said New Jersey Governor Chris Christie was the Republican with the best chance to win Pennsylvania in a general election.
He won in a landslide.
But Tuesday, information surfaced that could derail his hopes of competing in the Keystone State, especially in southeast Pa. where his moderate brand of politics is more popular.
It turns out Christie's NFL preference would go over in Pa. about as well as Obama at a Tea Party rally.
"My favorite football team is not the New York Giants. It's not the New York Jets. And it's not the Philadelphia Eagles," Christie said.
"My favorite football team are the Dallas Cowboys."
The elementary school children to whom he was speaking broke out in a chorus of boos.
Why? Because the Cowboys were good when Christie was growing up.
Empirical data show that the Cowboys – NFL division rivals of the Eagles, Giants and Washington Redskins – are the least-liked team in the world and they stand for everything terrible in professional sports.
The video is here: