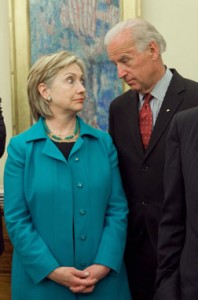 Hillary Clinton and Joe Biden are holding their first joint campaign event in Scranton.
"Vice President Joe Biden and Hillary Clinton will campaign in Pennsylvania on Friday, July 8," the Clinton campaign emailed reporters today. "In a visit to the Scranton area for a Pennsylvania Democratic Party event, Clinton and Vice President Biden will discuss their shared commitment to building an America that is stronger together and an economy that works for everyone, not just those at the top."

Each of them have familial connections to the city. Clinton's father was born there while Biden himself was born and spent the first decade of his life in the Northeastern PA city.
Clinton has increasingly focused on Pennsylvania after initially giving the impression that she felt the commonwealth was safely in her camp.
Next week's objective for the Clinton team seems to be highlight the leaders of the Democratic Party throwing their support behind the presumptive nominee. Not only will the VP be appearing with her on Friday but Clinton and Pres. Obama will campaign in Charlotte on Tuesday.