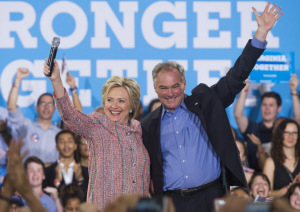 The Democratic presidential ticket is returning to Pennsylvania.
On Saturday October 22nd, Hillary Clinton and Tim Kaine are stumping in Philadelphia and Pittsburgh.
This will be their first joint visit since their bus trip through the commonwealth just after the Democratic National Convention.
Additionally, the Clinton-Kaine campaign announced that Jon Bon Jovi will host a "Get Out the Vote" rally in Pittsburgh on Thursday October 27th.
Finally, Vice President Joe Biden is set to campaign in Wilkes-Barre on Friday.